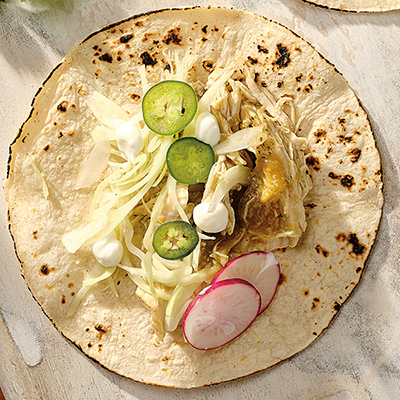 Green Chili Chicken Tacos served with Avocado Slaw
Ingredients
Serves 8 to 10
1 tbsp (15 ml) sunflower oil
salt and pepper, to taste
1 cup (250 ml) salsa verde
8 to 10 small corn tortillas, 4.5-in (11.25 cm) each
thinly sliced pickled red onion, radish, and/or jalapeño, as desired, for garnish
chopped cilantro, for garnish
1 tbsp (15 ml) sour cream
1 tbsp (15 ml) mayonnaise
¼ cup (60 ml) cilantro, leaves only
¼ tsp (1 ml) ground cumin
3 cups (750 ml) shredded green or purple cabbage
salt and pepper, to taste
Instructions
In a medium cast iron pan, heat oil over medium high heat. Season chicken with salt and pepper and sear on both sides for 1 to 2 minutes, until golden brown. Add salsa verde, reduce heat to low and cover pan. Cook for 20 minutes, or until chicken is cooked through.
Remove from heat and let rest for half an hour. Using 2 forks, shred chicken in remaining sauce. Set aside until ready to use. If making ahead, refrigerate and reheat when ready to serve.
Warm corn tortillas over a grill or hot pan until pliable; otherwise they will crumble when filled. Transfer warmed tortillas to a plate and cover with a clean tea towel after each addition to keep warm.
To assemble, reheat filling, if needed. Add a heaping spoonful to middle of corn tortillas, top with Avocado Slaw and garnish as desired.
To make Avocado Slaw, In a small blender, blend first 6 ingredients together until smooth. For a thinner dressing, add 1 tsp (5 ml) water at a time until desired consistency is achieved.
In a medium bowl, toss cabbage with half the dressing and season with salt and pepper. Add more dressing as desired or reserve to use as extra sauce for tacos. Cover and refrigerate until ready to use. Can be made up to 30 minutes ahead; any more, and it may start to go brown.
Drink Pairings