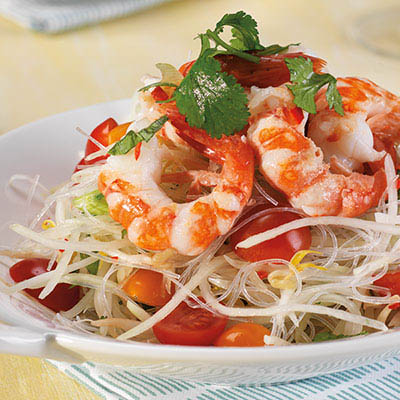 GREEN PAPAYA AND CHILI SPOT PRAWN SALAD
Ingredients
Serves 4
2 Thai red chilies, seeded and finely chopped
3 tbsp (45 ml) lime juice, divided
1 lb (500 g) BC spot prawns tails, peeled, deveined
1 x 3½ oz (100 g) package dried rice vermicelli noodles
2 tbsp (30 ml) fish sauce
1 tbsp (15 ml) brown sugar
½ medium to large green papaya, peeled, seeded, finely shredded
8 to 10 grape tomatoes, halved
1 cup (250 ml) bean sprouts
2 green onions, finely chopped
½ cup (125 ml) coarsely chopped fresh cilantro leaves
½ cup (125 ml) fresh mint leaves
½ cup (125 ml) coarsely chopped fresh Thai basil leaves
Instructions
Reserve a quarter of the chopped chilies. In a non-reactive bowl, combine remaining chilies with 1 tbsp (15 ml) lime juice, garlic cloves and olive oil. Add prawns and toss to coat. Cover with plastic wrap and refrigerate for 30 minutes.
In a heatproof bowl, place noodles and cover with boiling water. Set aside to soften, about 10 minutes. Drain and rinse with cold water. Drain well and set aside.
To make dressing, in a small bowl or screw-top jar, add fish sauce, brown sugar, remaining 2 tbsp (30 ml) lime juice and reserved chopped chilies. Whisk or shake to combine.
In a separate bowl, combine shredded papaya, shallot, tomatoes, bean sprouts, green onions, cilantro, mint, Thai basil and reserved noodles. Add dressing and toss to combine.
Heat a non-stick skillet over high heat. Add prawns and cook, turning, for 1 to 2 minutes, or until pink and just cooked through. Divide papaya mixture between serving plates. Top with prawns and drizzle any extra pan juices. Serve immediately.
Drink Pairings