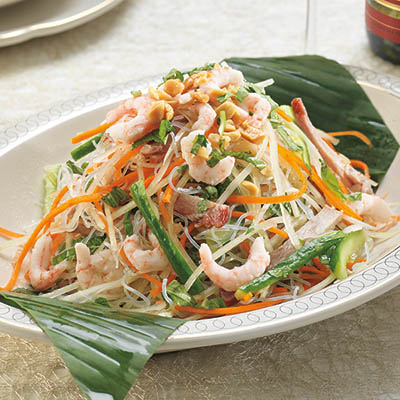 GREEN PAPAYA NOODLE SALAD
Ingredients
Serves
2 tbsp (30 ml) sherry vinegar
2 tbsp (30 ml) rice vinegar
2 tbsp (30 ml) Asian fish sauce
1 red Thai chili, seeded and finely minced
2 oz (60 g) dried bean vermicelli noodles
⅓ lb (175 g) Chinese barbecue pork, cut fine julienne
⅓ lb (175 g) hand-peeled fresh shrimp
2 cups (500 ml) julienne cut green papaya
½ English cucumber, seeded, cut into ¼-inch matchsticks
2 med carrots, peeled and shredded
1 cup (250 ml) chopped fresh mint
1 cup (250 ml) chopped fresh basil
1 cup (250 ml) chopped fresh cilantro
1 cup (250 ml) roasted, unsalted peanuts
Instructions
Combine sherry vinegar, rice vinegar, mirin, sugar, fish sauce, shallot, chili and garlic cloves in a small saucepan over medium heat. Bring to a boil. Simmer for 5 minutes and remove from heat. Cool.
Bring a medium saucepan of water to a boil and add noodles. Cook until just tender, about 3 minutes. Drain in strainer and rinse under cold water. Drain well. Cut into smaller lengths with kitchen scissors if desired. Set aside.
In a large mixing bowl, combine barbecued pork, shrimp, noodles, green papaya, cucumber, carrots, mint, basil, and cilantro. Drizzle with vinaigrette and toss well with peanuts.
Drink Pairings