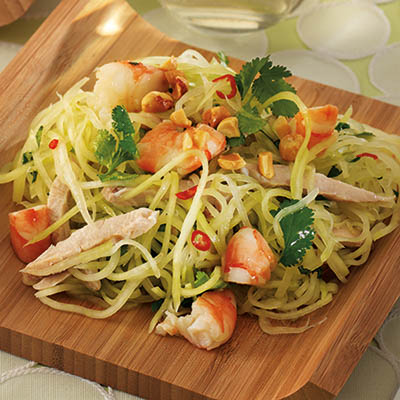 GREEN PAPAYA SALAD WITH PORK, PRAWNS AND CASHEWS
Ingredients
Serves 4
¼ cup (60 ml) fresh lime juice
3 tbsp (45 ml) fish sauce
1 tbsp (15 ml) granulated sugar
1 garlic clove, finely minced
1 to 2 Thai red chilies, seeded and finely chopped
1 firm green papaya, about 2 lbs (1 kg)
1 tsp (5 ml) granulated sugar
3 tbsp (45 ml) salt, divided
1 thick cut boneless pork chop, about ⅓ lb (150 g), trimmed of fat
½ lb (250 g) medium-sized prawns, shelled and deveined, tails intact
3 tbsp (45 ml) coarsely chopped spearmint
3 tbsp (45 ml) coarsely chopped cilantro or Vietnamese coriander
¼ cup (60 ml) roasted cashews, coarsely chopped
Instructions
To make DRESSING: In a small bowl whisk together all ingredients until sugar dissolves. Set aside.
To make SALAD: Peel papaya, cut in half and scoop out seeds with a spoon and discard. Using a slicer with a julienne blade, carefully shred papaya into long, thin strands.
Transfer shredded papaya to a colander. Sprinkle with sugar and 2 tbsp (30 ml) salt and toss to thoroughly coat. Let sit for a couple minutes to soften papaya, then rinse well under cold, running water to remove sugar and salt. Working in batches, gently wring out excess water from papaya by placing mounds in centre of a clean tea towel, rolling it up and squeezing out water. Place on a paper towel-lined baking sheet to remove any further moisture. Transfer to a mixing bowl and toss to fluff up.
To a small saucepan half full of water, add remaining salt and heat over high heat. Bring to a boil and add prawns. Remove from heat and let sit 3 to 5 minutes, or until prawns are opaque and cooked. With a slotted spoon, transfer to an ice-water bath to cool then drain well, reserving cooking water in saucepan. Cut into small ¼-in (0.5 cm) pieces. Add to papaya.
Bring reserved water in saucepan back to a boil and add pork chop. Return to a boil, cover and remove from heat. Set aside, covered, for 20 to 25 minutes or until pork is just cooked through. Remove pork, cool and cut into thin matchstick julienne.
Add pork to papaya bowl, along with Dressing, herbs and chopped cashews. Toss to mix, adjust seasoning to taste.
Drink Pairings