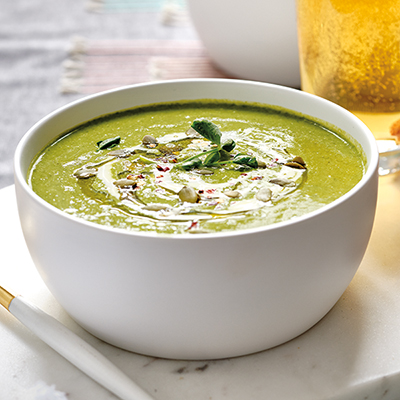 Green Pea and Leek Soup served with Gorgonzola Toasts
Ingredients
Serves 4
2 tbsp (30 ml) olive oil, divided
1 leek, white part only, sliced
3 to 4 cups (750 ml to 1 L) chicken stock, as needed
2 cups (500 ml) frozen peas
4 cups (1 L) spinach, packed
1 cup (250 ml) + 4 tbsp (60 ml) whipping cream, divided
¼ cup (60 ml) + 1 tbsp (15 ml) mint leaves, divided
salt and pepper, to taste
1 cup (250 ml) crumbled Gorgonzola
¼ cup (60 ml) chopped walnuts
½ cup (125 ml) pea shoots or microgreens (optional)
1 tbsp (15 ml) toasted pumpkin seeds
Instructions
In a large saucepan, heat 1 tbsp (15 ml) oil over medium heat. Add leek and onion and sauté for 10 minutes, or until translucent. Add 3 cups (750 ml) chicken stock and bring to a boil. Add peas and spinach and cook for another 3 minutes to thaw peas and wilt spinach. Allow to cool slightly, then transfer to a high-speed blender. Add 1 cup (250 ml) cream, nutmeg, lemon zest and ¼ cup (60 ml) mint. Blend on high until smooth. If soup is too thick, gradually add up to 1 cup (250 ml) more chicken stock, blending until it reaches desired consistency. Season with salt and pepper and set aside until ready to serve. If making ahead, soup will keep in refrigerator for up to 1 week.
Preheat oven to 350 F (180 C).
Place baguette slices on a parchment-lined baking sheet and drizzle with remaining 1 tbsp (15 ml) oil. Divide Gorgonzola between baguette slices, placing a heaping spoonful on each. Sprinkle with walnuts and bake for 5 to 7 minutes, until cheese has melted and baguette is golden brown.
When ready to serve, reheat soup over medium heat, if needed. Ladle into bowls and garnish each with remaining mint, 1 tbsp (15 ml) cream, pea shoots (if using), chili flakes and pumpkin seeds. Serve with Gorgonzola toasts.
Drink Pairings