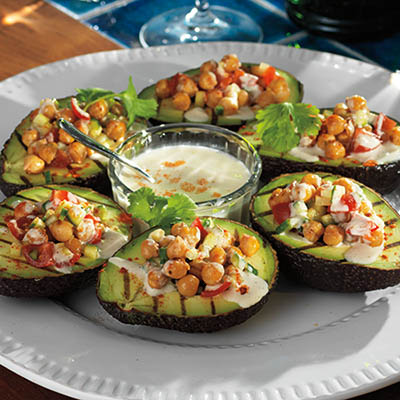 GRILLED AVOCADO WITH CHICKPEAS AND TAHINI DRESSING
Ingredients
Serves 6
¼ cup (60 ml) sesame tahini
¼ cup (60 ml) extra-virgin olive oil
2 tbsp (30 ml) each, tamari soy sauce and fresh lemon juice
2 tbsp (30 ml) water, plus extra, if needed
1 garlic clove, smashed and minced
1 tsp (5 ml) peeled and grated ginger root
freshly ground black pepper, to taste
1 x 14 oz (398 ml) can chickpeas
2 tbsp + 1 tbsp (45 ml) grape seed oil
½ tsp (2 ml) smoked paprika
salt and pepper, to taste
½ cup (125 ml) very finely diced unpeeled English cucumber
½ cup (125 ml) quartered cherry tomatoes
1 tbsp (15 ml) extra-virgin olive oil
Instructions
Place all TAHINI DRESSING ingredients in a small blender and whirl until smooth and creamy. Add a little more water, if needed to make it pourable. Transfer to a squeeze tube and refrigerate until ready to use. Can be refrigerated for several days.
Preheat barbecue to about 375 F (190 C). Rinse and drain chickpeas, pat dry with paper toweling. Slip off any papery skins, if desired. Transfer chickpeas to a bowl and toss with grape seed oil. Dust with smoked paprika, salt and pepper. Place in a grill basket or on a small baking tray, spreading out to an even thickness. Grill for about 15 minutes, stirring often, until chickpeas are golden and lightly crisped. Remove and transfer to a bowl to cool.
When chickpeas are cooled, gently toss together with finely diced cucumber and tomatoes in a bowl. Set aside. Can be made ahead and refrigerated.
Cut avocados in half and remove pits. Brush with extra-virgin olive oil. Place cut-side down on grill and cook until nice grill marks form, about 2 minutes. Give Tahini Dressing a quick shake and drizzle sauce over top of avocados and chickpeas. Serve immediately.
Drink Pairings