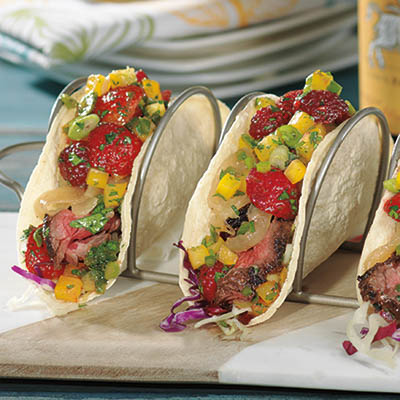 GRILLED BEEF TACOS WITH BERRY SALSA
Ingredients
Serves 4
1 tsp (5 ml) ground cinnamon
4 allspice berries, crushed
¼ tsp (1 ml) ground nutmeg
½ tsp (2 ml) garlic powder
½ tsp (2 ml) crushed red pepper flakes
1 tbsp (15 ml) dark brown sugar
1½ tsp (7 ml) salt, plus extra
freshly ground pepper, to taste
1.5 lbs (750 g) hanger steak or skirt steak
1 tbsp (15 ml) unsalted butter
1 large Vidalia onion, thinly sliced
1 tbsp (15 ml) granulated sugar
1 tbsp (15 ml) white wine vinegar
1 cup (250 ml) pilsner beer
1 cup (250 ml) fresh strawberries, sliced
1 cup (250 ml) fresh raspberries, cut in half
1 small yellow or red bell pepper, diced
1 jalapeño, seeded and diced
2 green onions, thinly sliced
⅓ cup (75 ml) fresh cilantro, chopped
1 tbsp (15 ml) liquid honey
¾ cup (175 ml) shredded red cabbage
¾ cup (175 ml) shredded green cabbage
½ cup (125 ml) shredded radicchio
8 soft corn tortillas, about 8-in (20 cm)
¼ cup (60 ml) crumbled feta or blue cheese
Instructions
In a small bowl, whisk cinnamon, allspice berries, nutmeg, garlic powder, pepper flakes, brown sugar, salt and a good pinch of pepper. Rub mixture over skirt steak, place steak in a bowl and refrigerate for at least 4 hours and up to 12 hours.
Grease and preheat grill over medium-high heat.
While grill warms, make caramelized onions. Melt butter in large frying pan over medium heat. Add onion and cook until softened, about 5 minutes. With a wooden spoon stir in granulated sugar, vinegar, beer and a pinch of salt and pepper. Bring to a boil, reduce heat to medium-low, and simmer for 30 minutes, stirring occasionally. Once liquid has been evaporated and onions are soft, transfer to a bowl and set aside.
To make a berry salsa, in large bowl, toss together strawberries, raspberries, bell pepper, jalapeño, green onions, cilantro, honey, lime zest and juice, and salt to taste. Refrigerate until ready to use.
Grill steak over direct heat for 3 to 5 minutes per side or until cooked as preferred. Remove from heat to cutting board to rest for 10 minutes.
While steak is resting, toss together both cabbages and radicchio.
When ready to serve, warm tortillas in a frying pan over medium heat, flipping once. Thinly slice steak against grain. Divide cabbage mixture among tortillas, top with sliced steak, caramelized onions, the berry salsa and a crumble of feta cheese. Serve immediately.
Drink Pairings