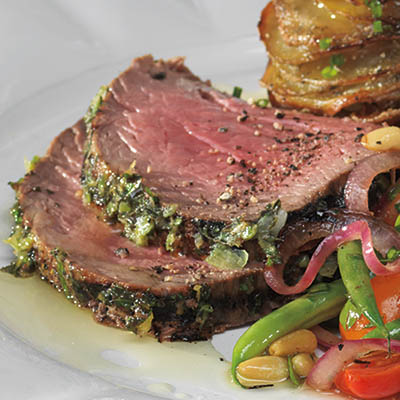 GRILLED BEEF TENDERLOIN WITH MINT AND GREEN ONION BUTTER
Ingredients
Serves 12
½ cup (125 ml) unsalted butter, at room temperature
1 cup (250 ml) packed fresh mint leaves, chopped
4 green onions, trimmed and chopped
salt and pepper, to taste
2 centre cut beef tenderloins, trimmed and tied, about 3 lbs (1.5 kg) each
3 tbsp (45 ml) grapeseed oil
Fire-Kissed Green Bean Salad, to serve (Separate Recipe)
Mini Pommes Anna, to serve (Separate Recipe)
Instructions
In bowl of a food processor fitted with steel blade attachment, combine butter, mint, green onions, lemon zest and pinch of salt until well combined and green onions are finely chopped. Transfer flavoured butter to a bowl and set aside. If making sides, factor in prep time.
Preheat grill over medium-high heat and set up both direct and indirect heat zones.
While grill is preheating, generously season tenderloins with salt and pepper before letting stand at room temperature for 30 minutes. Rub tenderloins with oil before searing on all sides over direct heat, about 4 minutes per side.
Transfer meat to indirect heat zone and grill, covered, turning occasionally, until a thermometer registers 125 F (52 C) for medium-rare, about 20 to 30 minutes. Grilling time will vary depending on thickness and preference.
Remove meat from grill to a cutting board. Brush with prepared mint and green onion butter and let stand for 15 minutes before untying, slicing and serving with sides.
Drink Pairings