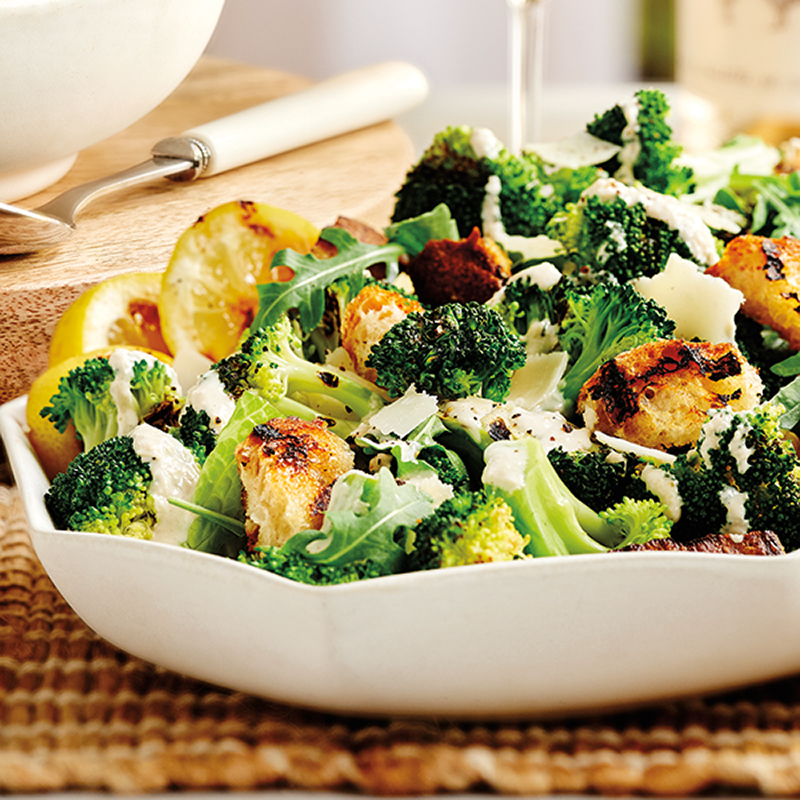 GRILLED BROCCOLI CAESAR SALAD
Ingredients
Serves 6
½ cup (125 ml) plain Greek yogurt
⅓cup (75 ml) grated Parmesan, plus extra for serving
1 tsp (5 ml) Worcestershire sauce
½ tsp (2.5 ml) anchovy paste
1 tsp (5 ml) Dijon mustard
1 tbsp (15 ml) fresh lemon juice
kosher salt and black pepper, to taste
3 medium broccoli crowns, separated into large florets
¼ cup (60 ml) extra-virgin olive oil, divided
3 slices sourdough bread, each about 1-in (2.5 cm) thick
4 cups (1 L) mixed hearty greens
Instructions
Preheat grill to medium-high. You may also place a vegetable basket over grill to preheat if you have one.
To make dressing, in a medium bowl, whisk together yogurt, Parmesan, Worcestershire sauce, anchovy paste, mustard, lemon juice and garlic until thoroughly combined. Season to taste with salt and pepper, then set aside. If dressing is very thick, add water 1 tbsp (15 ml) at a time until desired consistency is reached.
In a large bowl, add broccoli florets and drizzle with 2 tbsp (30 ml) oil. Toss to coat. Brush both sides of sourdough bread slices with remaining 2 tbsp (30 ml) oil. Cook bread on grill, turning a couple of times, until grill marks appear on both sides, about 3 minutes total. Set aside on a wire rack to cool. Cook broccoli on grill, turning occasionally, until tender and lightly charred, about 5 to 7 minutes total. Transfer to a plate.
To serve, arrange greens on a serving platter and top with grilled broccoli. Drizzle with dressing and garnish with torn pieces of grilled sourdough bread and some extra shavings of Parmesan, if desired.
Drink Pairings