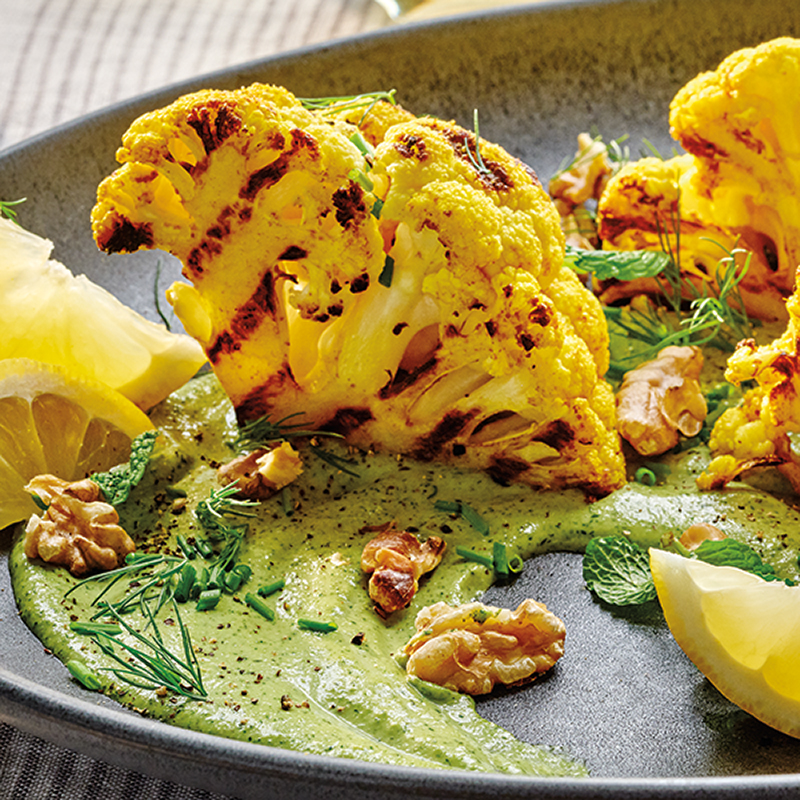 Grilled Cauliflower Wedges with Herb Tahini Sauce
Ingredients
Serves 4
INGREDIENTS FOR HERB TAHINI SAUCE
2 garlic cloves, finely chopped
1 cup (250 ml) chopped fresh dill
½ cup (125 ml) chopped fresh mint leaves
⅓ cup (75 ml) coconut water or water
⅓ cup (75 ml) fresh lemon juice
kosher salt and freshly ground black pepper, to taste
INGREDIENTS FOR GRILLED CAULIFLOWER
1 small cauliflower, about ½ lb (250 g)
¼ cup (60 ml) extra-virgin olive oil
½ tsp (2.5 ml) ground coriander
1 tsp (5 ml) ground cumin
½ tsp (2.5 ml) ground turmeric
⅓ cup (75 ml) toasted walnut halves
1 handful fresh herbs such as dill, mint, parsley, chives
lavash* or pita bread, to serve (Lavash bread is a Middle Eastern flatbread.)
Instructions
To make Herb Tahini Sauce, in bowl of a blender or food processor fitted with a steel blade attachment, add garlic, dill, mint, tahini and coconut water. Blend until a thick paste forms, scraping down sides of bowl, as needed. Add lemon juice. Blend until well‑combined. Sauce should be spreadable but not runny. If too thick add 1 to 2 tbsp (15 to 30 ml) coconut water (or water) and blend until combined. Season to taste with salt and pepper. Set aside
Preheat barbecue to medium-high on 1 side only. Turn other side of grill on to low.
To prepare Grilled Cauliflower, remove outer leaves, trim stem so it sits flat. Cut cauliflower through core into 4 wedges. Set aside.
In a large bowl, whisk together oil, coriander, cumin and turmeric along with a generous pinch of salt. Add cauliflower, gently massage and turn in oil mixture to coat. Handle carefully, as cauliflower can fall apart easily.
Place cauliflower cut-side down on grates over hottest part of grill and cook, undisturbed, until it starts to char, about 3 minutes. Gently turn cauliflower onto other cut-side. Continue to grill, mostly undisturbed, until starting to char, another 3 minutes. Turn wedges onto floret side and gently slide to cooler side of grill. Reduce heat on both sides to low and close lid. Grill until a skewer easily slides through thickest part, about 10 to 15 minutes. Gently transfer to cutting board.
Spread Herb Tahini Sauce onto a platter or individual plates. Arrange cauliflower on top and dollop with extra sauce. Garnish with toasted walnuts, fresh herbs and lemon wedges. Serve with lavash bread and extra sauce.
Drink Pairings