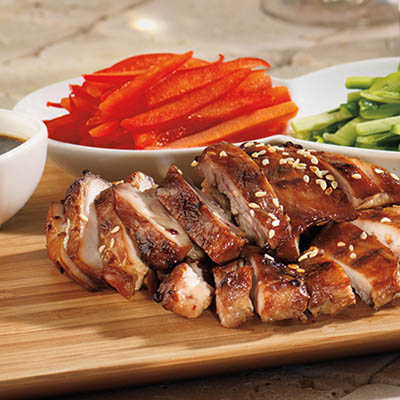 GRILLED CHICKEN LETTUCE WRAPS
Ingredients
Serves 4 to 6
½ cup (125 ml) low-sodium soy sauce
½ cup (125 ml) teriyaki sauce
2 tbsp (30 ml) sweet soy sauce, such as Kecap Manis
1 tsp (5 ml) peeled, grated fresh ginger root
1 tsp (5 ml) red pepper flakes
8 boneless, skinless chicken thighs
1 head iceberg, bibb lettuce, leaves separated
2 tbsp (30 ml) sesame seeds, toasted
3 green onions, thinly sliced on the bias
assorted julienned vegetables, such as cucumbers, carrots, red peppers, celery, and bean sprouts
Instructions
In a shallow glass container large enough to fit chicken thighs in one layer, combine soy sauce, teriyaki sauce, sweet soy sauce, olive oil, sesame oil, ginger root, red pepper flakes and garlic. Add chicken and marinate for at least 4 to 8 hours in the refrigerator.
Grease barbecue grill and preheat to medium-high.
Remove chicken from marinade (keep marinade aside) and place on hot grill. Cook until golden brown, about 5 to 6 minutes, flip chicken and continue cooking for 5 to 6 minutes until internal temperature of chicken reads 165 F (75 C).
Pour saved marinade into a saucepan and bring to boil for 5 minutes. Set aside.
Remove chicken from grill and place on a cutting board. Slice thinly and transfer to a platter. To serve, using tongs, place some chicken on a lettuce leaf and top with julienned vegetables. Garnish with sesame seeds and green onions and drizzle with cooked marinade.
Drink Pairings