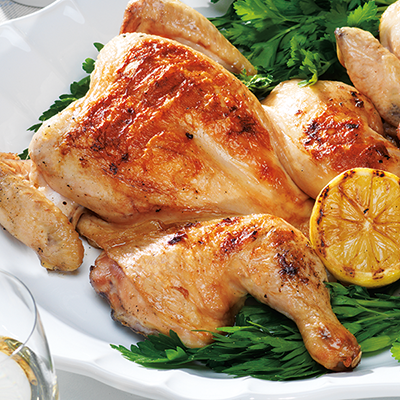 GRILLED CHICKEN SERVED WITH TAPENADE AND TZATZIKI
Ingredients
Serves 8 to 10
2 whole chickens, about 3 lbs (1.5 kg) each (ask butcher to Spatchcock, or see step 1)
¼ cup (60 ml) salt, plus extra to taste
2 tbsp (30 ml) pepper, plus extra to taste
2 cups (500 ml) boiling water
1 cup (250 ml) Castelvetrano olives, pitted
1 cup (250 ml) parsley, packed
¼ cup + 3 tbsp (60 ml + 45 ml) olive oil, divided, plus extra
1 cup (250 ml) Greek yogurt
Instructions
To Spatchcock whole chicken, place chicken breast-side down with legs towards you. Using sturdy scissors or poultry shears, cut up along each side of the parson's nose and backbone to remove it, cutting through rib bones as you go. Once backbone is removed, flip chicken and press down until it lays flat on cutting board.
In a large pot, mix salt, sugar, pepper and smashed garlic. Cover with boiling water and stir. Add cold water and add chickens. Cover and refrigerate for at least 3 hours, up to 6. Before ready to grill, remove chickens from water and pat dry. Let chickens rest at room temperature for about 1 hour.
To make Tapenade, in a food processor, add olives, capers, lemon zest, parsley, shallot and ¼ cup (60 ml) olive oil. Pulse on medium-high until tapenade texture is achieved. Let rest at room temperature until ready to serve, about 4 to 6 hours.
To make Tzatziki, in a small bowl, mix yogurt, minced garlic and grated cucumber. Add 3 tbsp (45 ml) olive oil and lemon juice. Mix until all ingredients are incorporated, add salt and pepper to taste. Refrigerate until ready to serve.
Preheat barbecue to medium-high with lid closed, about 10 minutes. Lightly oil outside of each chicken and season with a pinch of salt and pepper. Grill chickens, breast side down, for about 10 minutes with lid open. Flip and grill other side of chicken with lid closed, on medium heat for 20 minutes. Using a meat thermometer, check that chicken has reached 165 F (74 C) before removing from grill (a small chicken should be fully cooked after 30 minutes). Once fully cooked, remove from grill and rest for 10 minutes. Serve with Tapenade and Tzatziki.
Drink Pairings