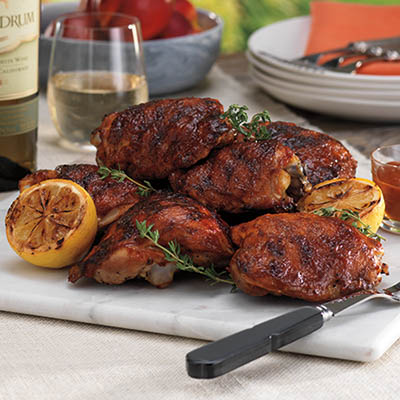 GRILLED CHICKEN WITH NECTARINE BARBECUE SAUCE
Ingredients
Serves 4 to 6
NECTARINE BARBECUE SAUCE:
1 tbsp (15 ml) vegetable oil
3 nectarines, pitted and chopped
½ cup (125 ml) spiced dark rum
½ cup (125 ml) liquid honey
½ cup (125 ml) tomato paste
¼ cup (60 ml) cider vinegar
2 tsp (10 ml) smoked paprika
4 tsp (20 ml) kosher salt
1 tsp (5 ml) grated nutmeg
½ tsp (2 ml) ground black pepper
4 chicken drumsticks, with skin on (optional)
4 chicken thighs, with skin on (optional)
2 tsp (10 ml) ground black pepper
Instructions
In a heavy-bottomed saucepan, sweat onions and garlic in vegetable oil until soft, about 5 minutes over low-medium heat.
Add remaining barbecue sauce ingredients and simmer, uncovered, for 15 to 20 minutes. Stir often. Transfer to a food processor or blender and purée until smooth. Adjust seasoning to taste. Store in a tightly covered container in the refrigerator for up to 1 week. Makes 2¼ cups (560 ml).
Grease grill and preheat barbecue to medium heat, about 350 F (180 C).
In a large bowl, combine chicken, olive oil, salt and pepper. Rub in with your hands to evenly coat.
Place chicken on greased grill and barbecue for about 7 minutes on each side.
Generously brush chicken with Nectarine Barbecue Sauce. Continue flipping and basting chicken with sauce until juices run clear when pierced and internal temperature registers 165 F (75 C) on a meat thermometer when inserted into centre of meat, about 10 to 12 minutes more per side.
Meanwhile, grill cut side of each lemon half and set aside for garnish.
To serve, arrange chicken on a heated platter and garnish with grilled lemon and sprigs of thyme.
Drink Pairings