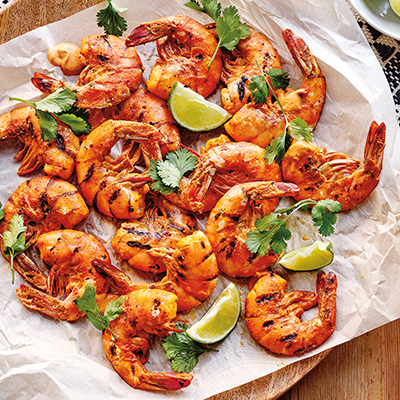 GRILLED COCONUT CURRY PRAWNS
Ingredients
Serves 6
1¼ cups (310 ml) unsweetened coconut milk
¼ cup (60 ml) Thai red curry paste
½ tsp (2.5 ml) black pepper
½ tsp (2.5 ml) chili flakes
1 tsp (5 ml) ground coriander
1 tsp (5 ml) ground cumin
1 tsp (5 ml) finely grated lime zest
1/3 cup (75 ml) fresh lime juice
2 lbs (1 kg) jumbo prawns, shell on (about 18 to 20)
salt and pepper, to taste
¼ cup (60 ml) coarsely chopped fresh cilantro, leaves and stems chili flakes and lime wedges, to serve
Instructions
In a large bowl, combine coconut milk, curry paste, salt, pepper, chili flakes, coriander, cumin, lime zest and juice. Add prawns and turn to coat. Cover and refrigerate for 1 hour.
Grease grill and preheat to medium. Remove prawns from marinade and place directly on grill. Cook, turning once or twice, until prawns are cooked through, about 5 to 7 minutes.
Transfer to a serving plate, season with salt and pepper, sprinkle with cilantro, chili flakes and a generous squeeze of lime juice, and serve with extra lime wedges on the side.
Drink Pairings