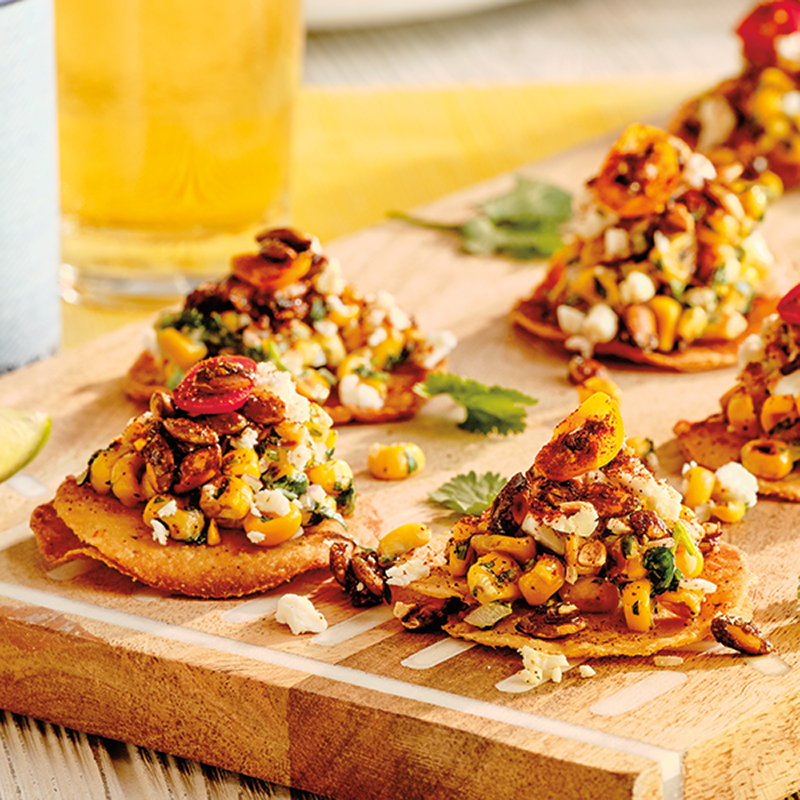 Ingredients
Serves 12
6 x 6-in (15 cm) corn tortillas
1 cup (250 ml) canola oil, for frying
⅓ cup (75 ml) raw hulled pumpkin seeds
2 tbsp (30 ml) granulated sugar
1 large pinch fine sea salt, plus extra to taste
½ tsp (2.5 ml) smoked Mexican chili powder, plus extra for garnish
2 large corn cobs, husks removed
3 tbsp (45 ml) best-quality mayonnaise
2 tbsp (30 ml) minced red onion
1 small garlic clove, finely grated
2 tbsp (30 ml) finely chopped cilantro leaves
2 tbsp (30 ml) freshly squeezed lime juice
⅓ cup (75 ml) crumbled feta cheese
lime wedges and salsa, to serve
Instructions
Using a cookie cutter, cut two 3-in (8 cm) rounds from each tortilla and set aside. Keep trimmings for frying and snacking on, if desired. Line a baking sheet with paper towel. In a deep heavy-bottomed saucepan, heat oil to 370 F (188 C). Working in batches, fry tostadas until crisp and golden brown, turning, about 1 to 2 minutes. Transfer fried tostadas to lined baking sheet to drain.
In a medium frying pan over medium heat, toast pumpkin seeds until fragrant and just beginning to pop, about 3 minutes, shaking pan frequently. Sprinkle in sugar and cook until it melts and caramelizes, coating pumpkin seeds, about 3 minutes. Remove from heat, add pinch of salt and chili powder, toss well and immediately transfer seeds to a plate. Set aside to cool, then break into small chunks.
Preheat grill to medium. Grill corn, turning occasionally, for about 7 minutes or until cooked through and lightly charred. Let cool. Using a sharp knife, cut kernels off cob and transfer to a medium bowl. You should have about 1½ cups (375 ml). Mix in mayonnaise, onion, garlic, cilantro and lime juice and season to taste with salt and pepper.
To serve, divide corn mixture between tostadas. Top with pumpkin seeds, feta and a sprinkle of chili powder. Transfer to a serving tray and serve with lime wedges and a bowl of salsa on the side.
Drink Pairings