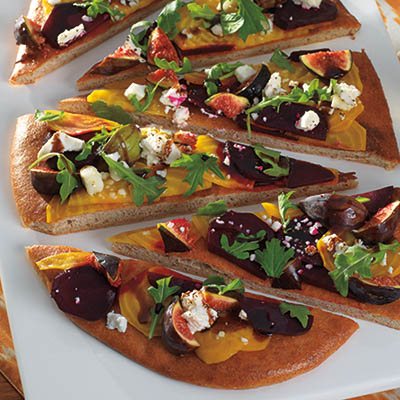 GRILLED FIG AND BEET FLATBREAD
Ingredients
Serves 6
1½ cups (375 ml) all-purpose flour
½ cup (125 ml) barley flour
2 tsp (10 ml) quick-rising yeast
½ tsp (2 ml) granulated sugar
¾ cup (175 ml) hot water, about 120 F (50 C)
2 tsp (10 ml) avocado oil or extra-virgin
olive oil, plus extra for oiling bowl and grilling
1 medium-sized yellow beet, roasted, peeled, and thinly sliced on a mandoline
1 medium-sized red beet, roasted, peeled, and thinly sliced on a mandoline
6 large fresh figs, quartered
½ cup (125 ml) crumbled Macedonian or regular goat's cheese feta
1 cup (250 ml) baby arugula leaves
3 tbsp (45 ml) flavoured balsamic vinegar
1 tbsp (15 ml) avocado oil or extra-virgin olive oil
salt and freshly ground black pepper
Instructions
To make DOUGH: Combine flours, yeast, salt and sugar in a food processor fitted with metal blade. Pulse to mix. With machine running, pour in hot water and 2 tsp (10 ml) oil through feed tube. Process for 1 minute or just until a ball forms. Continue to process for 35 to 45 seconds to knead dough.
With floured hands, shape dough into a smooth ball. Place in lightly oiled bowl. Cover and let rise in a warm, draft-free place until doubled, about 1 hour. Punch dough down and proceed with recipe. Or place in a plastic bag and refrigerate for up to 8 hours or freeze for up to a month if not using right away.
Grease barbecue and preheat to mediumhigh. Bring dough to room temperature before rolling out. Do not overwork or knead it. Using a lightly floured rolling pin and on a lightly floured surface, roll out dough into a 12-in (30 cm) oval. Prepare Toppings before grilling flatbread.
Brush top of flatbread with oil. Place oiled-side down on grill and barbecue with lid open until bottom is golden brown, about 3 minutes. Carefully rotate flatbread with tongs, to prevent burning. Brush top of flatbread with oil and turn dough over. Immediately arrange beet slices and figs and cheese on top. Continue to grill for 3 more minutes until bottom of flatbread is golden brown and cheese melts. Rotate flatbread frequently, checking to keep underside from charring. If flatbread turns dark too quickly, turn off barbecue and close lid.
Transfer to cutting board. Scatter with arugula. Cut into serving wedges, drizzle with vinegar and oil. Season with salt and pepper and serve.
Drink Pairings