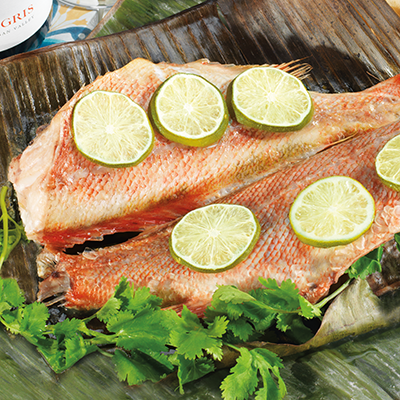 GRILLED FISH SERVED WITH TOMATILLO SALSA AND PICKLED RED ONIONS
Ingredients
Serves 4 to 6
1 large red onion, peeled and very thinly sliced
¼ tsp (1 ml) black peppercorns
½ tsp (2 ml) Mexican oregano or substitute oregano
¾ cup (175 ml) apple cider vinegar
1 lemon, zested and juiced
6 medium-sized tomatillos, husks removed and rinsed
1 whole jalapeño or serrano chili
½ medium white onion, coarsely chopped
handful cilantro sprigs, coarsely chopped
1 x 2 lb (1 kg) or 2 x 1 lb (500 g each) whole snapper or branzino, gutted and cleaned
Instructions
To make Pickled Red Onions, place sliced red onions in a large mason jar or divide into 2 smaller jars. In a small saucepan, add peppercorns, cumin, oregano, crushed garlic, bay leaf, salt and apple cider vinegar. Bring to a boil over medium-high heat. Remove from heat and stir in lemon zest and juice. Pour hot vinegar spice mixture over red onions. Cover and refrigerate overnight. Can be kept up to 2 weeks refrigerated.
To make Tomatillo Salsa, in a small saucepan, place tomatillos, whole garlic and chili and cover with water. Bring to a boil then reduce heat and simmer until soft, about 7 to 8 minutes. Remove from heat and drain. Allow to cool. Transfer to a blender and add chopped white onion, cilantro and lime juice. Process until smooth. Season to taste.
Preheat a large, flat barbecue plate or cast iron griddle over medium heat and season with salt. Dry fish well and place on salted grill for 8 to 10 minutes. Flip over and grill for another 8 to 10 minutes. Check fish for doneness by making a small incision in the thickest part and checking meat closest to the spine. Serve with warm corn tortillas, salsa and pickled onions.
Drink Pairings