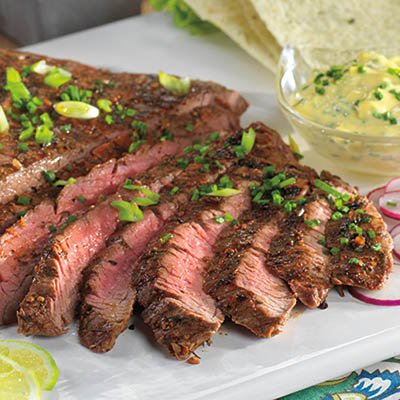 GRILLED FLANK STEAK WITH FLAXSEED OIL AIOLI
Ingredients
Serves 6 to 8
1 large egg, at room temperature
1 tbsp (15 ml) Dijon mustard
¾ cup (175 ml) vegetable or canola oil
½ cup (125 ml) flaxseed oil
4 tsp (20 ml) fresh lemon juice
2 tbsp (30 ml) minced chives
salt and freshly ground black pepper, to taste
2 lbs (1 kg) flank steak, about ¾-in (2 cm) thick
1 tbsp (15 ml) dried parsley
2 tsp (10 ml) dried garlic flakes
2 tsp (10 ml) dried onion flakes
¼ tsp (1 ml) cayenne pepper
2 green onions, thinly sliced on the diagonal, for garnish
white or whole wheat tortilla wraps
black beans, sliced avocado, shredded
lettuce, sliced radishes, diced tomatoes and cilantro, for garnish (optional toppings)
Instructions
To make FLAXSEED OIL AIOLI: Combine egg, garlic and mustard in a food processor. Pulse until evenly blended
With processor running, slowly add canola and flaxseed oil in a very thin, steady stream until completely combined. Add lemon juice and pulse until smooth.
Remove mixture to a bowl and stir in chives. Add salt and pepper to taste
Store aioli in an airtight container in refrigerator, for no longer than 4 days.
To make STEAK: Lightly score steak about ¼-in (0.5 cm) deep on both sides in a diamond pattern. In a small bowl, make a dry rub by stirring seasonings together. Rub over steak. Cover with plastic wrap and refrigerate for a couple of hours or overnight.
Bring steak to room temperature before grilling. Lightly oil grill and heat barbecue to medium-high. Grill steak with lid closed, 4 minutes. Turn and continue grilling until meat gives slight resistance when pressed, 4 to 5 more minutes. Flank steak tastes best cooked rare or medium-rare.
Remove to a cutting board and let rest 5 minutes before slicing. Cut beef against the grain into thin strips. Sprinkle with green onions. Serve thin slices of beef on a tortilla with Flaxseed Oil Aioli and toppings of choice.
Drink Pairings