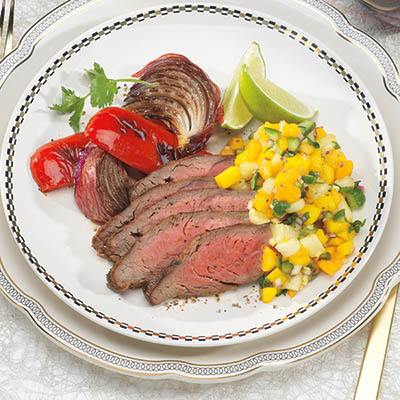 GRILLED FLANK STEAK WITH TROPICAL SALSA
Ingredients
Serves 4 o 6
2 tsp (10 ml) garam masala
1 tsp (15 ml) brown sugar
1 tsp (5 ml) freshly ground black pepper
2 lb (1 kg) flat iron or flank steak
1 cup (250 ml) fine diced ripe papaya
1 cup (250 ml) fine diced pineapple
1 cup (250 ml) fine diced mango
¼ cup (60 ml) fine diced seeded cucumber
¼ cup (60 ml) fine diced red onion
3 tbsp (45 ml) fine chopped cilantro
2 tbsp (30 ml) lime juice
½ tsp (2 ml) finely minced ginger
Instructions
Preheat grill or broiler to medium-high heat.
Combine garam masala, brown sugar, salt and pepper. Rub evenly over both sides of the steak. Let marinate at room temperature for 10 to 15 minutes.
Combine the remaining ingredients. Season. Cover and chill.
Lightly grease barbecue grill or baking rack. Place steak on grill rack, grill 5 minutes on each side or until desired doneness. Remove steak from grill and let stand 5 minutes. Cut steak diagonally across the grain into thin slices. Serve with tropical fruit salsa.
Drink Pairings