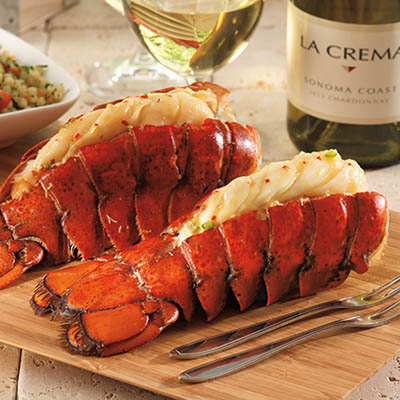 GRILLED LOBSTER TAIL WITH ISRAELI COUSCOUS
Ingredients
Serves 4
1 small yellow onion, finely chopped
2½ cups (625 ml) water or chicken stock
2 cups (500 ml) Israeli couscous
½ cup (125 ml) each, finely chopped fresh parsley and chives
½ cup (125 ml) grape tomatoes, quartered
½ cup (125 ml) butter, at room temperature
½ tsp (2 ml) red pepper flakes
1 Thai chili, seeded and finely chopped
1 small green jalapeño pepper, seeded and finely chopped
1 tsp (5 ml) minced garlic
1 tbsp (15 ml) chopped fresh chives
1 tsp (5 ml) grated lime zest
2 tbsp (30 ml) lime juice
4 frozen or fresh lobster tails
fresh chives, for garnish
Instructions
To make COUSCOUS: Heat oil in a medium-sized saucepan. Cook onion and garlic until soft. Add water or stock and bring to a boil. Stir in couscous and salt. Return to a boil. Cover saucepan with lid, remove from heat and let rest for 10 minutes for couscous to absorb stock and become fluffy and tender. Add herbs and tomatoes and stir in to combine. Set aside.
Preheat barbecue to medium.
In a small bowl, combine butter, red pepper flakes, Thai chili, jalapeño, garlic and chives. In a separate small bowl, combine lime zest and juice. Set aside.
Using kitchen shears, cut through the shells of the lobster tails just to the end of the shell. With a knife, split meat along the shell cut-line, being careful not to slice all the way through the lobster. Open the lobster like a book and brush both sides lightly with olive oil.
Place lobster on grill, meat-side-down, for about 5 minutes. Turn tails over and brush butter mixture onto meat. Grill for another 5 minutes or until lobster meat is an opaque white colour and the shell is red all over, adding more butter as needed.
Remove from grill, loosen meat from shell and place on a serving platter. Drizzle with lime juice mixture, sprinkle with chives and serve with Israeli Couscous. Garnish with lime wedges.
Drink Pairings