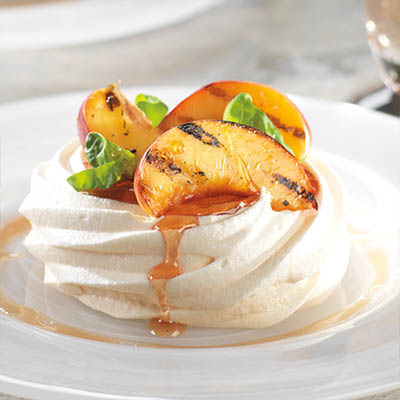 GRILLED NECTARINE PAVLOVAS WITH SPARKLING ROSÉ SYRUP
Ingredients
Serves 10
2 cups (500 ml) rosé sparkling wine
¼ cup (60 ml) granulated sugar
½ vanilla bean, split in half, seeds scraped out
¼ tsp (1 ml) fine sea salt
⅛ tsp (0.5 ml) cream of tartar
⅔ cup (150 ml) granulated sugar
⅔ cup (150 ml) icing sugar
1 tbsp (15 ml) cornstarch
2 tbsp (30 ml) coconut oil, melted
2½ cups (625 ml) vanilla Greek yogurt
basil leaves, for garnish
Instructions
To make SPARKLING ROSÉ SYRUP: In a medium-sized saucepan, stir together rosé and granulated sugar over mediumhigh heat. Bring to a boil, stirring often, and reduce to ⅓ cup (75 ml), about 15 minutes. Remove syrup from heat and stir in vanilla seeds and pod. Set aside to cool before removing vanilla pod. Syrup may be stored in an airtight container for up to 2 days before using.
To make PAVLOVAS: First position oven racks in upper and lower third of oven before preheating to 225 F (110 C). Line 2 baking sheets with parchment paper and set aside.
In bowl of an electric mixer fitted with the whisk attachment, whip egg whites and salt to soft peaks. Add vanilla and continue whipping just until stiff peaks form.
Meanwhile, in a bowl sift together cream of tartar and granulated sugar. In a separate bowl sift together icing sugar and cornstarch.
With electric mixer on medium speed, add granulated sugar mixture to egg whites, 1 tbsp (15 ml) at a time, until meringue is stiff and sugar has dissolved. Remove bowl from mixer and sift icing sugar mixture over meringue. Gently fold together using a rubber spatula until well combined. Transfer mixture to a piping bag with a large star piping tip.
Pipe roughly ten 3-in (8 cm) circles 2-in (2.5 cm) apart from each other on prepared baking sheet. Pipe 2 rings atop one another around the perimeter of each circle, forming a nest.
Bake meringues in preheated oven, rotating baking sheet positions halfway through cooking time, until outsides are crisp, about 2 hours. Turn oven off, prop door open with a wooden spoon, and leave meringues in oven until completely cooled, about 3 hours. Meringues may be stored at room temperature in an airtight container for 1 day.
When ready to serve, preheat grill or grill pan over medium-high heat.
Cut nectarines in half and discard pits. Cut each half into 4 wedges. Brush with coconut oil and grill wedges until they start to soften, about 1 minute per side. Transfer to a plate when done.
When ready to serve, divide meringue nests among serving plates. Fill each nest with ¼ cup (60 ml) yogurt before topping with grilled nectarine segments. Garnish with fresh basil leaves and a drizzle of Sparkling Rosé Syrup. Enjoy immediately.
Drink Pairings