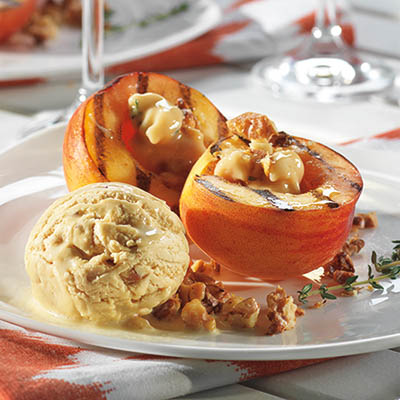 GRILLED PEACHES WITH MAPLE WALNUT ICE CREAM
Ingredients
Serves 8
⅓ cup (75 ml) + ½ cup (125 ml) pure maple syrup, divided
1 cup (250 ml) chopped walnuts, toasted
1 cup (250 ml) whole milk
2 tbsp (30 ml) granulated sugar
4 large egg yolks, whisked
1 cup (250 ml) whipping cream
½ cup (125 ml) unsalted butter, at room temperature
2 tbsp (30 ml) maple syrup
1 tsp (5 ml) extra-aged balsamic vinegar
½ tsp (2 ml) minced fresh thyme leaves
8 fresh cling-free peaches
¼ cup (60 ml) chopped, toasted walnuts, for garnish
sprigs fresh thyme, for garnish
Instructions
To make MAPLE WALNUT ICE CREAM: First prepare walnuts. In a small saucepan, heat ⅓ cup (75 ml) pure maple syrup. Once at a boil, stir in toasted walnuts and salt. Return to a boil. Stir for a couple more seconds and remove from heat. Set aside to cool.
In a medium-sized saucepan warm milk and sugar.
In a medium bowl, whisk a little warmed milk mixture into whisked egg yolks. Then slowly whisk egg yolks into remaining warmed milk in saucepan. Stir over medium-low heat until mixture thickens and coats a metal spoon. Pour through a strainer into a bowl and stir in whipping cream to cool. Add ½ cup (125 ml) maple syrup and vanilla. Chill mixture thoroughly in refrigerator before freezing in an ice cream maker. Freeze according to manufacturer's instructions. Add cooled walnuts in syrup during last few minutes of churning. Alternatively, pour both mixtures into a metal container, mix and cover tightly with foil. Freeze until almost firm. Stir with a fork to break up mixture. Return to freezer, covered, until set, about 4 hours or preferably overnight.
To make MAPLE THYME BUTTER: In a small bowl combine butter, maple syrup, vinegar, thyme and salt. Whisk to blend. Set aside. Preheat barbecue to medium and grease grill. Cut peaches into halves and remove stone. Brush cut surfaces with canola oil. Place peaches cut-side down on greased grill. Grill until golden and warmed through but still firm, about 3 to 5 minutes.
Serve peaches hot with a scoop of Maple Thyme Butter on each and a scoop of Maple Walnut Ice Cream. Garnish with chopped toasted walnuts and a sprig of thyme.
Drink Pairings