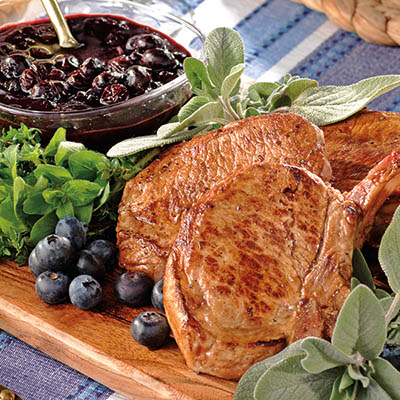 GRILLED PORK CHOPS WITH BLUEBERRY BARBECUE SAUCE
Ingredients
Serves
1 tbsp (15 ml) brown sugar
2 tbsp (30 ml) lemon juice
2 tbsp (30 ml) grainy mustard
1 tbsp (15 ml) white wine vinegar
BLUEBERRY BARBECUE SAUCE:
1 medium onion, finely chopped
1 piece fresh ginger, about ½-in (1.25 cm), grated
3 cups (750 ml) BC blueberries
¼ cup (60 ml) maple syrup
4 tbsp (60 ml) apple cider or balsamic vinegar
2 tbsp (30 ml) Worcestershire sauce
½ tsp (2 ml) ground cinnamon
½ tsp (2 ml) ground cumin
½ tsp (2 ml) chili powder
1 tsp (5 ml) smoked paprika
Instructions
Place pork chops in a glass or ceramic baking dish, set aside.
Whisk remaining ingredients together, except barbecue sauce, and pour over pork chops. Marinate for 1 to 4 hours.
Preheat barbecue to medium-high.
Remove pork chops from marinade and place on a lightly oiled grill. Grill pork chops until nicely browned and the internal temperature reads 145 F (63 C). Remove to a warmed platter and let rest for 5 minutes. Drizzle warmed Blueberry Barbecue Sauce over the chops and serve.
To make BLUEBERRY BARBECUE SAUCE: In a large skillet, heat olive oil and add onion, ginger and garlic and cook until the onion is softened. Add remaining ingredients and gently combine.
Simmer over medium heat until sauce is slightly reduced and bubbling. Remove from heat and let cool.
Purée half of the sauce in a blender until smooth and combine with finished sauce. Store in refrigerator until ready to use, for up to 2 weeks. Warm before serving. Makes 4 cups (1 L).
Drink Pairings