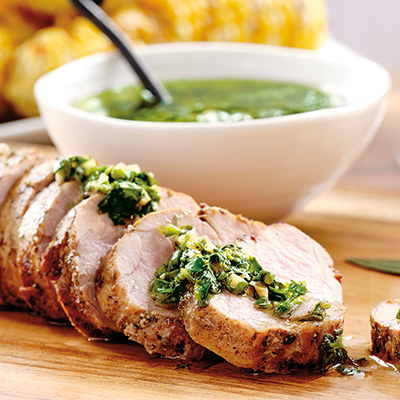 Grilled Pork Tenderloin served with Chimichurri Sauce
Ingredients
Serves 4 to 6
2 x 1 lb (500 g) pork tenderloins
2 tsp (10 ml) smoked paprika
2 tsp (10 ml) ground cumin
2 tsp (10 ml) dried oregano
½ tsp (2.5 ml) chili flakes
1 tsp (5 ml) black pepper
salt and pepper, to taste
pickled red onions, to serve (optional)
2 tbsp (30 ml) minced jalapeño, or to taste
½ cup (125 ml) red wine vinegar
1 tsp (5 ml) black pepper
½ cup (125 ml) finely chopped cilantro
½ cup (125 ml) finely chopped parsley
2 tbsp (30 ml) finely chopped fresh oregano
Instructions
Place pork and all but ½ cup (125 ml) chimichurri into a large plastic freezer bag; reserve ½ cup (125 ml) sauce for serving. Refrigerate for 4 hours, turning bag once or twice to evenly distribute marinade.
In a shallow bowl, combine paprika, cumin, dried oregano, chili flakes, salt and pepper.
Grease grill and preheat to medium. Remove tenderloins from marinade and coat in spice mixture. Grill, about 4 minutes per side or until just cooked through and lightly charred and reaches an internal temperature of 160 F (71 C). Season with salt and pepper and allow to rest before slicing. Serve with pickled red onions, if using, and reserved ½ cup (125 ml) chimichurri on the side or spooned over top.
For the chimichurri sauce, in a medium jar, combine all ingredients. Seal and shake well to combine. Taste and adjust seasoning, as desired. Will keep, refrigerated, for up to 5 days.
Drink Pairings