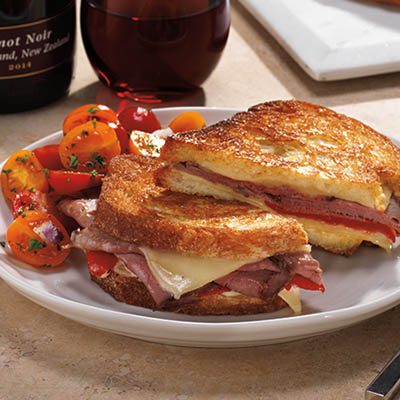 GRILLED RARE BEEF, ROASTED PEPPERS AND FONTINA CHEESE SANDWICHES
Ingredients
Serves 4
1 cup (250 ml) mayonnaise
1 tbsp (15 ml) lemon juice
1 tsp (5 ml) Dijon mustard
salt and freshly ground black pepper, to taste
8 slices fontina cheese, divided
roasted peppers, canned, drained, or see recipe below
¾ lb (340 g) rare deli roast beef, thinly sliced
8 thick slices French bread or country-style loaf
Instructions
Preheat oven to 400 F (200 C).
Cut top off the heads to expose garlic cloves. Place on a piece of aluminum foil and drizzle lightly with olive oil. Sprinkle with thyme leaves. Wrap up tightly with foil, and roast in oven for 35 to 45 minutes. Remove from oven and allow to cool. Squeeze soft pulp from skins into a food processor.
Add mayonnaise, lemon juice and Dijon mustard. Season with salt and pepper. Pulse until well combined. Transfer to a bowl, cover with plastic wrap and refrigerate for at least an hour to allow flavours to develop.
To assemble, spread garlic mayonnaise onto a slice of bread. Cover with a slice of fontina cheese and arrange some roasted peppers (recipe to follow) on top. Add 3 to 4 slices of roast beef and another slice of fontina. Spread garlic mayonnaise on another slice of bread and place face down on sandwich. Press down firmly.
Repeat process with remaining ingredients. Heat a grill pan over medium heat and brush tops of sandwiches lightly with olive oil. Arrange sandwiches in preheated grill pan and weigh them down with a sandwich press or foil covered brick. Cook until cheese has melted and the bread is lightly toasted, 1½ to 2 minutes. Cut each sandwich in half and serve immediately.
Drink Pairings