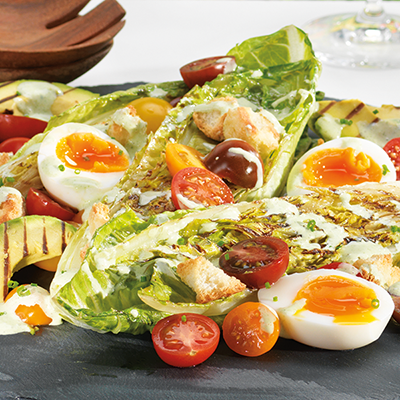 GRILLED SALAD WITH GREEN GODDESS DRESSING
Ingredients
Serves 4
½ cup (125 ml) sour cream
¼ cup (60 ml) lemon juice
1 cup (250 ml) mixed green herbs, such as tarragon, parsley, chives, chervil
2 tsp (10 ml) Worcestershire sauce
¼ loaf of French bread, torn into 1-in (2 cm) pieces
2 tbsp (30 ml) olive oil, divided
2 romaine lettuce hearts, sliced in half lengthwise
1 avocado, cut into quarters (leave skin on)
1 cup (250 ml) cherry tomatoes, halved
Chopped chives for garnish
Instructions
In a blender, mix sour cream, mayonnaise, lemon juice, mixed herbs, anchovy fillets and Worcestershire until smooth. Season to taste. Refrigerate until ready to use in an airtight container, up to 3 days. Can be kept in the refrigerator in an airtight container for up to 3 days.
Preheat oven to 375 F (190 C).
Bring a small pot of water to boil over high heat. Gently place eggs into water and boil for 7 minutes. Remove eggs and put into an ice bath until completely cooled. Crack and peel, set aside.
Toss bread with 1 tbsp (15 ml) olive oil and put on a baking tray. Bake croutons for about 10 to 15 minutes, or until golden brown, turning once or twice. Remove from oven and cool.
Preheat barbecue to medium heat. Rub cut side of the romaine hearts with 1 tbsp (15 ml) olive oil and grill for 2 to 3 minutes, just until grill marks form. Grill cut sides of avocados for about 2 minutes per side, just until grill marks form. Plate romaine hearts, avocados and cherry tomatoes on a platter. Cut eggs in half and place on the platter, garnish with croutons, chives and dressing.
Drink Pairings