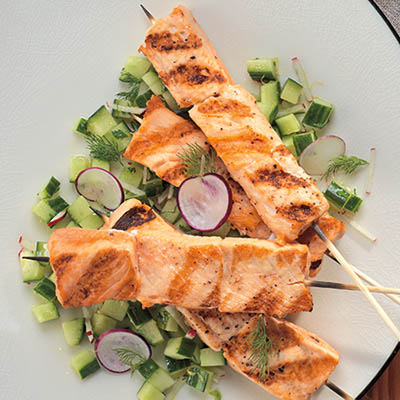 GRILLED SALMON SKEWERS WITH CUCUMBER SALSA
Ingredients
Serves 4
1 tbsp (15 ml) extra-virgin olive oil
2 tsp (10 ml) lemon juice
½ shallot, finely chopped
1 tsp (5 ml) fresh dill, chopped
fresh ground black pepper, to taste
½ unpeeled English cucumber, chopped
2 lbs (1 kg) sockeye or spring salmon fillet, pin bones and skin removed
3 tbsp (45 ml) extra-virgin olive oil
kosher salt and pepper to taste
3 radishes, thinly sliced, for garnish
Instructions
To make CUCUMBER SALSA: In a large bowl combine olive oil, lemon juice, shallot, dill, salt and pepper. Whisk to blend. Stir in cucumber.
Soak skewers in warm water for 10-30 minutes.
Cut salmon into 2-in (5 cm) cubes and thread 2 to 3 cubes onto each presoaked skewer. Brush with olive oil and season with salt and pepper. Refrigerate skewers until ready to cook.
Grease grill and preheat barbecue to 350 F (180 C). Barbecue salmon just until cooked, approximately 2 minutes per side for medium rare.
Remove and serve with Cucumber Salsa, garnish with radish.
Drink Pairings