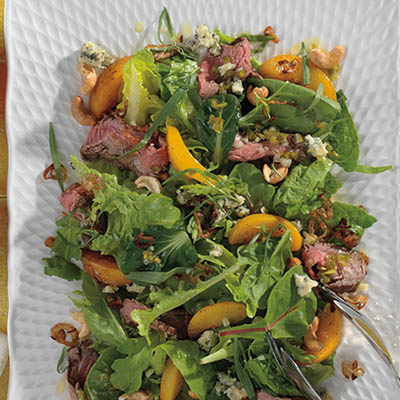 GRILLED STEAK AND PEACH SALAD
Ingredients
Serves 4
½ cup (125 ml) olive oil, divided
2 shallots, thinly sliced into rounds
salt and ground black pepper, to taste
2 firm, ripe peaches, pitted and cut into wedges
4 cups (1 L) mixed baby greens
4 cups (1 L) chopped romaine
1 tbsp (15 ml) fresh tarragon leaves, chopped
⅓ cup (75 ml) roasted cashews, for garnish
⅓ cup (75 ml) crumbled blue cheese, for garnish
2 tbsp (30 ml) lime juice
1 jalapeno pepper, seeded and chopped
1 tbsp (15 ml) clover honey
⅓ cup (75 ml) finely chopped basil leaves
2 tbsp (30 ml) finely chopped mint leaves
Instructions
Preheat barbecue grill to medium-high. Allow flank steak to sit at room temperature while grill preheats.
Heat ¼ cup (60 ml) oil in a large frying pan over medium heat. Working in batches, add a small handful of shallot rings to hot oil, stirring constantly. Fry until golden brown, about 1 to 2 minutes. Remove crispy shallots with a slotted spoon and transfer to a paper towel-lined plate. Season immediately with a pinch of salt and allow to cool. Repeat with remaining shallot rings.
Brush steak with 2 tbsp (30 ml) oil and season generously with salt and pepper. Grill for 10 to 15 minutes for medium rare, flipping halfway through cooking time, or until desired doneness is achieved. Transfer to a cutting board and allow to rest for 10 minutes. Brush peach wedges with remaining 2 tbsp (30 ml) oil and grill until warm and grill marked, about 2 minutes on each side. Take care, as peaches can burn easily if grill is too hot. Transfer to a plate and set aside.
To make HERB DRESSING: In a medium-sized bowl whisk together all dressing ingredients. Season to taste with salt and set aside at room temperature for 20 minutes.
To serve, toss together baby greens, romaine and tarragon and place on a large serving platter. Slice steak crosswise against the grain into ¼-in (0.5 cm) slices and place in bowl with dressing. Once all steak has been sliced and bathed in dressing, remove steak slices from dressing and drape over salad greens. Top with grilled peaches, cashews, crispy shallots and crumbled blue cheese. Serve remaining dressing alongside salad, so diners can dress salad as desired. Serve immediately.
Drink Pairings