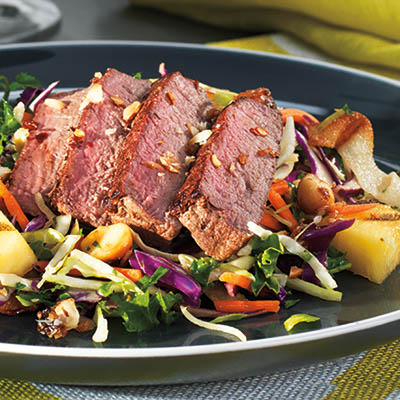 GRILLED STEAK WITH HAWAIIAN SLAW
Ingredients
Serves 6
¼ cup (60 ml) extra-virgin olive oil
¼ cup (60 ml) fresh lime juice
1 tbsp (15 ml) toasted sesame oil
2 tsp (10 ml) brown sugar
¼ tsp (1 ml) crushed red chilies
1 cup (250 ml) macadamia nuts
2 tsp (10 ml) unsalted butter
2 tbsp (30 ml) granulated sugar
½ tsp (2 ml) each of salt and crushed red pepper flakes
½ small Savoy cabbage, finely shredded
¼ red cabbage, finely shredded
2 carrots, peeled and coarsely grated
4 to 6 large leaves curly kale, stalk removed, leaves torn in bite-sized pieces
GRILLED BEEF TENDERLOIN STEAKS:
1 cup (250 ml) fresh pineapple chunks
½ lb (250 g) beef tenderloin, cut into 1-in (2.5 cm) thick steaks
salt and freshly ground black pepper
Instructions
To make DRESSING: In a small bowl combine olive oil, lime juice, sesame oil, brown sugar, soy sauce and crushed red pepper flakes. Whisk until evenly blended and emulsified. Set aside.
For CANDIED MACADAMIAS: In a frying pan, add macadamias and toss over medium heat in dry pan until lightly coloured. Add butter to melt. Add granulated sugar and salt and crushed red pepper flakes. Stir with a wooden spoon over medium heat until sugar caramelizes. It will only take 1 to 2 minutes. Transfer to a parchment-lined baking sheet to cool. Then coarsely chop.
Combine SALAD ingredients in a large platter and gently toss to evenly mix.
Preheat barbecue to 400 F (200 C) and grease grill. Lightly brush pineapple chunks with oil and grill for 1 minute on barbecue. Remove to a plate to cool. Brush steaks with oil and season with salt and pepper. Barbecue steaks for 3 to 5 minutes per side for rare or 5 to 7 minutes per side for medium, turning steaks once. Remove to a cutting board and let rest for 5 minutes. Then thinly slice against the grain into bite-sized pieces.
To serve, give salad dressing a quick whisk and drizzle over salad. Add pineapple chunks and gently toss. Divide among 6 serving dishes and arrange slices of steak across top. Scatter chopped macadamia nuts alongside and a little over top of steak. Serve immediately.
Drink Pairings