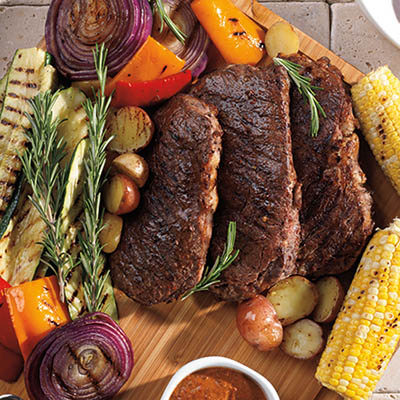 GRILLED STEAK WITH GRILLED SUMMER VEGETABLES
Ingredients
Serves 4 to 6
1 tbsp (15 ml) cocoa powder
1 tsp (5 ml) each, red pepper flakes, crushed cumin seeds, crushed Grains of Paradise, dry mustard
4 steaks, ¾ to 1 in (2 to 2.5 cm) thick
2 red bell peppers, halved
1 poblano or serrano pepper
1 tsp (5 ml) cumin seeds, toasted
⅓ cup (75 ml) extra-virgin olive oil
2 tsp (10 ml) cocoa powder
2 tsp (10 ml) balsamic vinegar
2 tsp (10 ml) brown sugar
GRILLED SUMMER VEGETABLES:
3 large green and/or yellow zucchini, trimmed and cut into ¼-in (0.5 cm) thick slices
1 large red onion, cut into ½-in (1cm) thick slices
24 small potatoes, halved
2 red, orange and/or yellow bell peppers, cored and seeded and cut into large chunks
4 Portobello mushrooms, stem and gills removed and cut into large chunks
3 ears of corn, husks removed and cut in half, if large
2 tbsp (30 ml) olive oil, more as needed
¼ cup (60 ml) chopped flat leaf parsley
Instructions
To make SPICE RUB: Combine all ingredients in a large bowl. Stir to blend and set aside. Pat dry steaks and apply Spice Rub to both sides to coat. Cover and refrigerate, for at least 1 hour.
To make HARISSA SAUCE: Preheat oven to 400 F (200 C). Place red peppers and poblano or serrano pepper, skin-side up, on a baking sheet. Roast for 20 minutes or until skin is charred and blistered. Place in a bowl and cover with plastic wrap. Let stand for 10 minutes. Peel, then discard skin, seeds and core.
Place roasted peppers and remaining Harissa ingredients in a food processor and pulse until puréed. Transfer mixture to a small saucepan and bring to a boil. Reduce heat and simmer for 3 to 5 minutes or until thickened. Remove from heat and season with salt and pepper.
Meanwhile, grease barbecue and preheat to medium-high.
To prepare VEGETABLES: Place all vegetables into a large bowl. Pour oil over top and toss to coat. Season with salt and pepper, to taste.
Place vegetables in a single layer on grill or in a grill basket; close lid and grill over medium-high heat for 10 to 12 minutes or until tender and cooked to desired doneness. While roasting, brush oil over vegetables using rosemary. Using tongs, remove from grill and place on a serving platter or board and sprinkle with parsley.
Add seasoned steaks to the grill and cook for 3 to 4 minutes per side for medium-rare, or longer for medium doneness. Transfer to a warm plate to rest for 2 minutes. Serve steaks with Harissa Sauce and grilled vegetables.
Drink Pairings