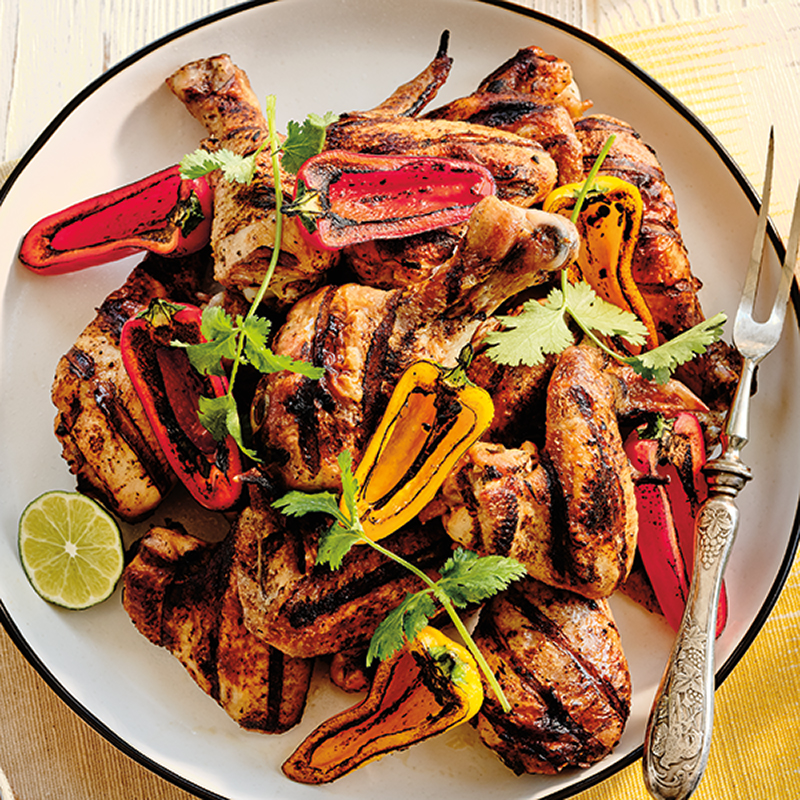 Grilled Tequila Chicken served with Tequila Beurre Blanc
Ingredients
Serves 6 to 8
¾ cup (175 ml) gold tequila
1 cup (250 ml) freshly squeezed lime juice
⅓ cup (75 ml) freshly squeezed orange juice
3 tbsp (45 ml) freshly squeezed lemon juice
¼ cup (60 ml) olive oil, plus extra for grilling
2 tbsp (30 ml) Mexican chili powder
1 tbsp (15 ml) ground coriander
2 tbsp (30 ml) ground cumin
3 tbsp (45 ml) seeded, minced jalapeño
¼ cup (60 ml) finely chopped cilantro leaves, plus extra cilantro sprigs, for garnish
6 large garlic cloves, finely minced
1½ tbsp (22 ml) sea salt, plus extra to taste
2 tsp (10 ml) freshly ground black pepper, plus extra to taste
4 lbs (1.8 kg) chicken drumsticks and wings
grilled peppers, to serve (optional)
1 tbsp (15 ml) very finely minced shallot
¼ cup (60 ml) dry white wine
⅓ cup (75 ml) gold tequila
2 tbsp (30 ml) freshly squeezed lime juice
1 tbsp (15 ml) whipping cream
½ cup (125 ml) butter, cut into small pieces, chilled
salt and pepper, to taste
Instructions
To make Tequila Chicken, in a large bowl, combine tequila, juices, honey, olive oil, chili powder, coriander, cumin, jalapeño, cilantro, garlic, salt and pepper. Add chicken to marinade, toss to coat, cover and refrigerate overnight.
Preheat grill to medium-high and brush grates with oil. Remove chicken from refrigerator and discard marinade. Sear chicken on grill for about 5 minutes, turning, until nicely browned on all sides. Reduce heat to medium-low and continue grilling for another 15 to 20 minutes, or until cooked through. Remove chicken from grill and season with salt and pepper. Transfer chicken to a serving platter to rest until ready to serve.
To make Tequila Beurre Blanc, in a small saucepan, combine shallot, wine, tequila, lime zest and lime juice. Bring to a boil, reduce heat to medium-low and simmer until about 2 tbsp (30 ml) liquid remains, about 4 to 6 minutes. Turn heat down to very low, whisk in cream, then add butter, one piece at a time, whisking constantly. Remove saucepan from heat from time to time, making sure sauce stays warm but is never too hot. After about 2 to 3 minutes, when all the butter has been incorporated and emulsified, remove from heat and season with salt and pepper. Transfer to a serving bowl.
Serve chicken with grilled peppers, if desired, garnish with cilantro and serve with lime wedges and Tequila Beurre Blanc.
Drink Pairings