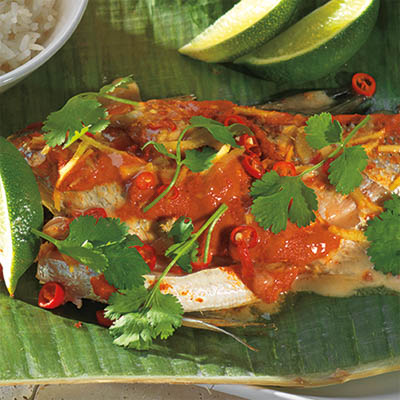 GRILLED THAI-STYLE FISH WITH SPICED COCONUT SAUCE
Ingredients
Serves 4
1½ lbs (750 g) whole snapper or cod
1½ tbsp (22 ml) Thai red curry paste
3 tbsp (45 ml) coconut cream, from top layer of a can of coconut milk
2 tbsp (30 ml) finely slivered peeled ginger root
1 to 2 Thai red chilies, finely sliced
3 to 4 cilantro sprigs, coarsely chopped
lime wedges and cilantro sprigs, for garnish
¼ cup (60 ml) coconut cream, from top layer of a can of coconut milk
2 tbsp (30 ml) fish sauce
2 tbsp (30 ml) Sweet Chili Sauce
Instructions
To prep fish, preheat oven to 350 F (180 C). Wash banana leaf and cut off enough to enclose fish, reserving some to serve.
Place a large piece of aluminum foil that's slightly larger than fish on banana leaf, then top with fish. Cut 2 slashes in thickest part of flesh.
Mix together curry paste, coconut cream, lime zest and juice. Spread over fish then scatter with ginger, chilies and 3 to 4 coarsely chopped fresh cilantro sprigs. Enclose fish in leaf, with head and tail end at each end of 'tube', and secure with kitchen string.
Place parcel in a roasting pan and bake for 40 minutes or until cooked through. To check, open leaf and insert a knife along backbone. If flesh comes away easily from bone, it's ready.
Meanwhile, make Spiced Coconut Sauce by mixing coconut cream, lime juice, fish sauce and Sweet Chilli Sauce in a small saucepan. Gently warm, cover and set aside.
To serve, line platter with reserved banana leaf. Open parcel and remove baked fish to platter. Spoon warm Spiced Coconut Sauce over top and scatter with lime wedges and cilantro sprigs. Serve with steamed rice, if desired.
Drink Pairings