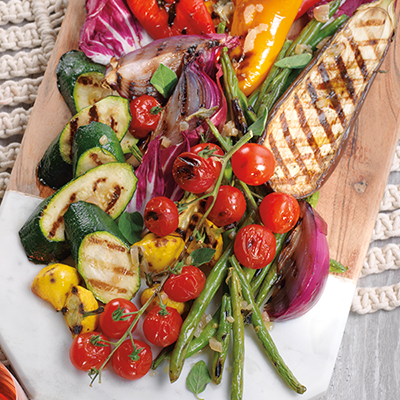 Ingredients
Serves 3 to 5
1 each, yellow zucchini, green zucchini, small eggplant, yellow pepper, orange pepper, red onion
½ cup (125 ml) green beans
¼ cup (60 ml) neutral-flavoured oil
1 tsp (5 ml) Dijon mustard
1 tbsp (15 ml) red wine vinegar
2 sprigs oregano, stems removed
Instructions
Preheat barbecue to medium-high heat.
Slice zucchinis, eggplant and peppers in half lengthwise. Cut red onion into quarters. Place all vegetables in a large bowl, add neutral oil and season to taste. Toss until everything is coated evenly. Place vegetables on grill and close lid for 10 minutes. Remove green beans and flip remaining vegetables and grill on other side for another 10 minutes or until all vegetables are fork tender. Remove and plate on a large serving platter.
In a small saucepan on medium heat, heat olive oil. Add shallots and reduce heat to medium-low, cook for about 5 to 8 minutes until shallots are translucent. Remove from heat and add mustard and vinegar. Top vegetables with warm dressing and garnish with oregano leaves.
Drink Pairings