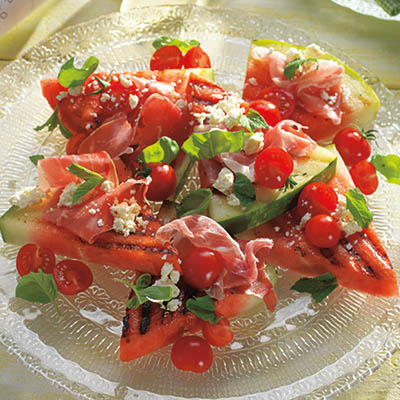 GRILLED WATERMELON WITH PROSCIUTTO AND SHERRY VINAIGRETTE
Ingredients
Serves 4 to 6 as an appetizer
1 medium shallot, finely minced
2 tbsp (30 ml) sherry vinegar
1 tbsp (15 ml) fresh lemon juice
1 tsp (5 ml) Dijon mustard
½ cup +1 tbsp (140 ml) extra-virgin olive oil
3 to 4 thick sliced watermelon rounds, about 1-in (2.5 cm), cut into large wedges
sea salt and freshly ground black pepper
4 oz (125 g) thinly sliced prosciutto, cut into thin strips
10 to 12 cherry tomatoes, halved
4 oz (125 g) crumbled feta cheese
¼ cup (60 ml) finely chopped red onion
Instructions
In a small bowl, stir together shallot, sherry vinegar, lemon juice and Dijon mustard. Let sit 15 minutes. Slowly whisk in ½ cup (125 ml) olive oil until emulsified. Set vinaigrette aside.
Heat barbecue to medium-high. Brush both sides of watermelon wedges with remaining olive oil and season with salt and pepper. Grill 1 minute on each side or until grill marks appear.
Transfer watermelon to serving platter, divide and top each wedge with prosciutto strips, cherry tomato halves, feta cheese, red onion, mint and basil leaves. Drizzle with vinaigrette.
Drink Pairings