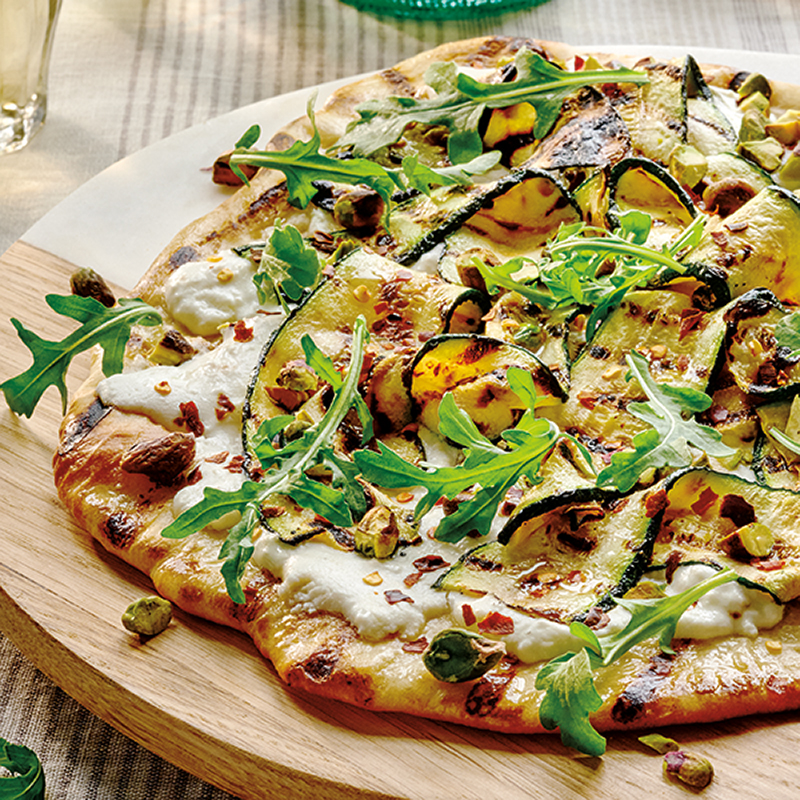 Grilled Zucchini & Greens Flatbread
Ingredients
Serves 6
1 lb (500 g) homemade or store-bought pizza dough, room temperature
flour for dusting surfaces
6 oz (180 g) goat's feta, crumbled
3 tbsp (45 ml) plain yogurt
2 medium zucchinis, about 1 lb (500 g), sliced lengthwise ¼-in (0.5 cm) thick
2 tbsp (30 ml) grapeseed oil, plus more for greasing grill
flaky sea salt and freshly ground black pepper, to taste
1 large lemon, cut in half
⅓ cup (75 ml) toasted pistachios, very roughly chopped
1½ cups (375 ml) packed baby arugula
extra-virgin olive oil, to taste
1 pinch red pepper flakes (optional)
Instructions
Preheat barbecue to medium-high on 1 side only. Lightly oil grill with grapeseed oil.
Turn dough out onto a lightly floured surface. Cover with a tea towel and let rest for 20 minutes.
Meanwhile, in a food processor fitted with a steel blade attachment, pulse together feta and yogurt, until smooth and creamy, scraping down bowl as needed. Transfer to a medium bowl and set aside.
In a large bowl, gently toss zucchini slices with 2 tbsp (30 ml) grapeseed oil and a good pinch of salt and pepper. Grill over direct heat, turning often, until zucchini is tender and charred in spots, about 3 to 5 minutes total. Transfer to a plate and set aside. Grill lemon halves cut-side down over direct heat until charred, about 4 minutes. Set aside.
Divide dough in half. Working with 1 piece of dough, dust work surface with flour and roll or stretch dough into a 10-in (25 cm) round. Brush 1 side lightly with grapeseed oil. Place dough oiled-side down onto grill directly over heat. Brush top lightly with more grapeseed oil and cook until underside is browned and crisped up, about 1 to 2 minutes. Flip and cook until other side until it has light grill marks, about 1 minute. Transfer flatbread to a baking tray and set aside while cooking remaining dough. Top each grilled flatbread with some feta spread, grilled zucchini and pistachios.
Return flatbreads to indirect heat, close grill and cook until warmed through, about 3 to 5 minutes. Transfer flatbreads to a cutting board and garnish with arugula, a good squeeze of charred lemon and a drizzle of olive oil. Sprinkle with red pepper flakes, if using, and additional salt to taste. Slice and serve.
Drink Pairings