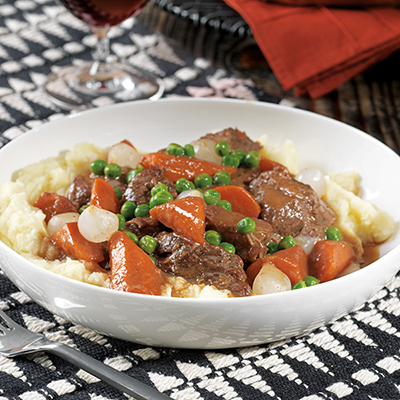 GUINNESS LAMB STEW SERVED WITH IRISH SODA BREAD
Ingredients
Serves 4 to 6
2 lb (1 kg) boneless lamb shoulder, cut into 2-in (5 cm) chunks
2 tbsp (30 ml) vegetable oil
1 large onion, thinly sliced
1 garlic clove, thinly sliced
1 tbsp (15 ml) tomato paste
3 cups (750 ml) beef stock
1 x 440 ml can Guinness beer
4 carrots, peeled and cut into 2-in (5 cm) chunks
2 cups (500 ml) frozen green peas
2 tbsp (30 ml) finely chopped Italian parsley
mashed potatoes, to serve
2½ cups (625 ml) all-purpose flour
½ cup (125 ml) brown whole wheat flour
½ tsp (2.5 ml) baking soda
¾ tsp (4 ml) baking powder
2¼ cups (560 ml) buttermilk
Instructions
Season lamb with salt and pepper. In a heavy-bottomed pot or Dutch oven over medium-high heat, heat oil. Sear lamb in pot, on all sides, until golden brown, about 5 minutes per side. Remove lamb and set aside.
Turn down heat to medium-low and add onion and garlic. Sweat until soft and translucent. Turn down heat to low and add tomato paste and cook until paste is lightly browned and caramelized. Add beef stock, Guinness, thyme and bay leaves. Add seared lamb and stir to combine. Simmer and cook for 2 hours.
Remove thyme and bay leaves and discard, then add carrots.
Mix flour and water to make a slurry. Add slurry to stew, stirring until mixed in. Cover and simmer for another 45 minutes to 1 hour, or until carrots are tender. Add peas and simmer until heated through. Garnish with parsley before serving. Serve with Irish Soda Bread and mashed potatoes, if desired.
To make IRISH SODA BREAD: Preheat oven to 400 F (200 C) and line a medium-sized Dutch oven with parchment paper.
In a large bowl, sift dry ingredients together. It is important to sift ingredients to incorporate baking soda properly. Add buttermilk and mix with a rubber spatula, just until thoroughly combined, do not overmix.
Pour batter into prepared Dutch oven. Cover and bake for 30 to 40 minutes, or until a wooden skewer inserted in middle of bread comes out clean. Put bread back into oven without lid and bake for additional 5 to 8 minutes, or until top is golden brown. Remove from oven and cool to room temperature before slicing. Serves 6.
Drink Pairings