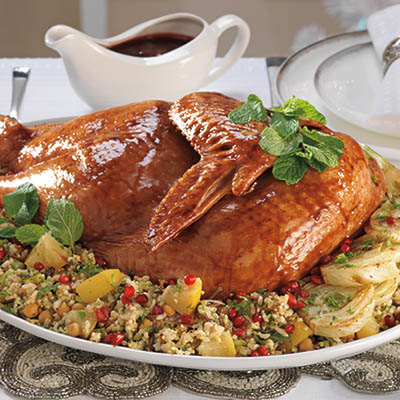 HALF-TURKEY ROAST WITH POMEGRANATE SAUCE, WILD GRAINS AND FENNEL
Ingredients
Serves 6
½ x 14 lb (7 kg) turkey, about 7 lb (3.5 kg)
¼ cup (50 ml) unsalted butter, softened
4 cups (1 L) pomegranate juice
½ cup (125 ml) balsamic vinegar
1 tbsp (15 ml) brown sugar
1 tbsp (15 ml) Dijon mustard
1 tbsp (15 ml) minced fresh rosemary
1 large garlic clove, smashed and minced
1 tbsp (15 ml) cornstarch, optional
1 cup (250 ml) short grain brown rice
1 tbsp (15 ml) olive oil, plus extra for oiling dish
generous pinches of allspice, cardamom, cumin and black pepper
2 cups (500 ml) turkey or chicken stock, warmed
19 oz (540 ml) can chickpeas, rinsed and drained
½ cup (125 ml) chopped celery leaves
½ cup (125 ml) each of chopped parsley and cilantro
¼ cup (50 ml) chopped fresh mint leaves
½ cup (125 ml) pomegranate seeds
3 small fennel bulbs, thickly sliced
1 tbsp (15 ml) each unsalted butter and olive oil
Instructions
Preheat oven to 400 F (200 C). Skewer turkey skin along cut edges to prevent skin from rolling up during roasting. Pin or tie wing to breast to hold firmly in place. Generously season inside cavity with salt and place turkey, cut-side down, on a rack in a roasting pan. Spread softened butter over skin and generously season with salt and pepper. Place in oven and roast, uncovered, for 20 minutes.
In a large saucepan, combine pomegranate juice, balsamic, brown sugar, Dijon, rosemary and garlic. Whisk together and bring to a boil. Remove ½ cup (125 ml) juice mixture and use for basting turkey. Boil remainder vigorously over medium-high heat until reduced to 2 cups (500 ml). Strain into a small saucepan. Stir into reduced pomegranate sauce and boil until thickened. Remove and set aside.
Once turkey has roasted at 400 F (200 C) for 20 minutes, reduce temperature to 300 F (150 C), begin basting turkey with reserved pomegranate sauce every 15 minutes. Turkey is done when a meat thermometer inserted into the thickest portion of the breast reads 170 F (65 C), about 2 more hours. Serve turkey tucked into Wild Grains with Sautéed Fennel and Pomegranate Sauce.
To make WILD GRAINS: Cook wild rice as per package directions. Fluff with a fork and place in a large bowl.
Heat 1 tbsp (15 ml) oil in a large saucepan. Add onion and sauté just until soft and clear. Rinse brown rice in a strainer under cold running water for 1 minute. Shake well and add to onion along with seasonings. Sauté just until rice begins to warm and smell fragrant. Stir in stock and bring to a boil. Cover, reduce heat and simmer for 40 to 45 minutes. Rice should be tender, but still a bit chewy. Remove from heat and covered for 10 minutes to steam. Then fluff with a fork and add to cooked wild rice. Set aside.
Rinse and drain millet. Place in a dry saucepan and toast grains, just until pale golden. Stir often. Add 1½ cups (375 ml) water and bring to a boil. Cover, reduce heat and simmer for 20 minutes until grains are tender and water has been absorbed. Transfer to a baking sheet and spread out to dry. Stir often, to keep grains separated.
When millet is partially cooled, add to rice along with chickpeas and celery. Fold together and set aside while turkey is baking. About 45 minutes before turkey is done, add parsley, cilantro and mint to rice mixture and fold together. Transfer to a well-oiled baking dish. Cover with foil and place in oven alongside turkey during final baking. To serve, scatter pomegranate seeds over top.
To make SAUTÉED FENNEL: Heat butter and oil in a large frying pan. Add sliced fennel and sauté just until slightly golden on both sides but still slightly firm. Season with salt and pepper.
Drink Pairings