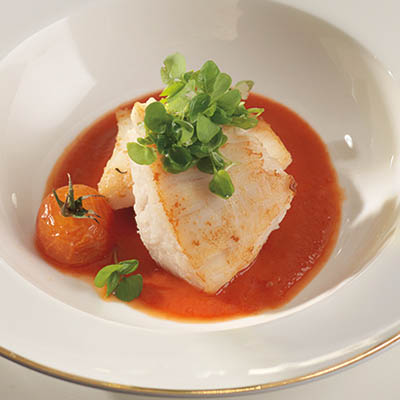 Ingredients
Serves 4
8 to 12 halibut cheeks, depending on size
4 tsp (20 ml) olive oil, divided
4 tsp (20 ml) butter, divided
1 small garlic clove, minced
2 tbsp (30 ml) Roasted Tomato Coulis
4 lbs (2 kg) ripe, medium-sized tomatoes, stems removed and halved
salt and freshly ground black pepper, to taste
Instructions
To make HALIBUT CHEEKS: Pat the halibut cheeks dry, and season with salt and pepper. Sauté 3 tsp (15 ml) oil and 3 tsp (15 ml) butter over medium-high heat. Add cheeks and cook 2 minutes on each side, or until almost cooked through. Transfer to a plate.
Wipe pan clean. Heat remaining oil and butter over medium heat and add shallot and garlic, cook until translucent. Remove to a bowl, add micro greens.
To serve, place Roasted Tomato Coulis in the middle of a plate or bowl. Add 2 halibut cheeks and top with micro greens.
To make ROASTED TOMATO COULIS: Preheat the oven to 250 F (120 C). Place tomatoes on a large rimmed baking sheet cut-side up and drizzle with oil. Season generously with salt and pepper. Bake for 3 to 4 hours, or until tomatoes are soft and bursting.
Allow to cool, then blend in batches to desired texture. For smoother coulis, strain through a fine-meshed sieve to eliminate seeds. Will keep in the refrigerator for 1 week or in the freezer for 4 months.
Drink Pairings