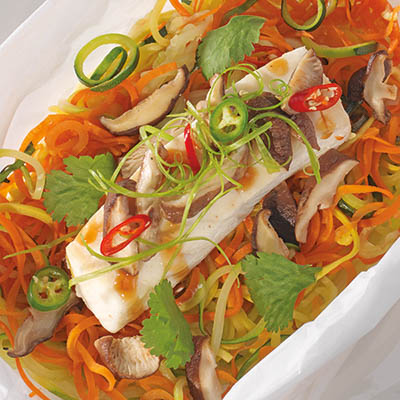 Ingredients
Serves 4
1 cup (250 ml) ponzu sauce (or 1 cup (250 ml) soy sauce with 1 tbsp (15 ml) lemon juice and 1 tbsp (15 ml) lime juice)
4 large pieces parchment paper
1½ lb (750 g) halibut fillet, cut into 4 portions (can substitute any white fish)
1 cup (250 ml) shiitake mushrooms, stems removed
red chilies, sliced, for garnish (optional)
2 green onions, sliced thinly
1 small handful cilantro, for garnish
Instructions
Preheat oven to 375 F (190 C).
In a small saucepan, bring ponzu sauce and sugar to a boil. Reduce by half and mix in sesame oil, set aside.
Using a vegetable spiralizer, spiral zucchini and carrot. If you do not have one, julienne vegetables. Mix vegetables together and season with salt and pepper. Divide vegetables into 4 portions and place each portion on a piece of parchment paper. Top with a piece of halibut, the shiitake mushrooms and 2 tbsp (30 ml) of ponzu sauce.
Fold each parchment paper in half and seal edges to make a package and place packages on a baking tray. Bake for 15 minutes. Remove packages from oven and open them up. Drizzle with another tsp (5 ml) of sauce and garnish with chilies, green onion and cilantro.
Drink Pairings