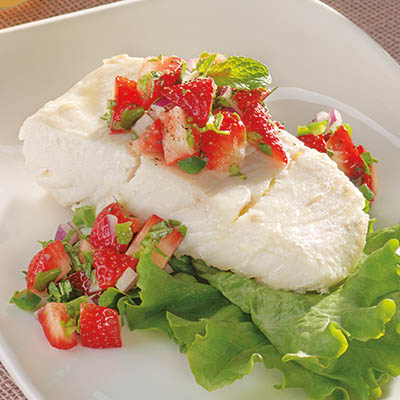 HALIBUT WITH SPICY STRAWBERRY SALSA
Ingredients
Serves 2
2 cups (500 ml) strawberries, trimmed and diced
¼ cup (60 ml) diced red onion
⅓ cup (75 ml) loosely packed basil leaves, chopped
¼ cup (60 ml) loosely packed mint leaves, chopped
1 jalapeño, seeded and finely diced
1 tbsp (15 ml) white wine vinegar
1 tbsp (15 ml) extra-virgin olive oil
salt and pepper, to taste
2 x 6 oz (180 g) halibut fillets, skin-on
1 tbsp (15 ml) grapeseed oil
2 tbsp (30 ml) unsalted butter
Instructions
Preheat oven to 400 F (200 C).
In a medium bowl, stir together strawberries, onion, basil, mint, jalapeño, vinegar and olive oil. Set aside.
Pat fish dry with a paper towel and season liberally with salt and pepper. Heat grapeseed oil in a heavy-bottomed, ovenproof skillet over medium-high heat until almost smoking. Carefully lay fish in pan, skin side down. Reduce heat to medium, and cook until a golden brown crust forms on skin, about 1 minute. Flip fillets over and cook for another minute before placing in oven to roast until fish is opaque in centre and flakes easily, 3 to 4 minutes. Remove fish from oven and add to stovetop over medium-low heat. Add butter to pan and allow to melt while squeezing lime over fish. Using a spoon, baste each fillet with buttery juices for about 1 minute. Transfer fish to serving plates.
Season strawberry salsa to taste with salt and pepper before spooning over fish.
Drink Pairings