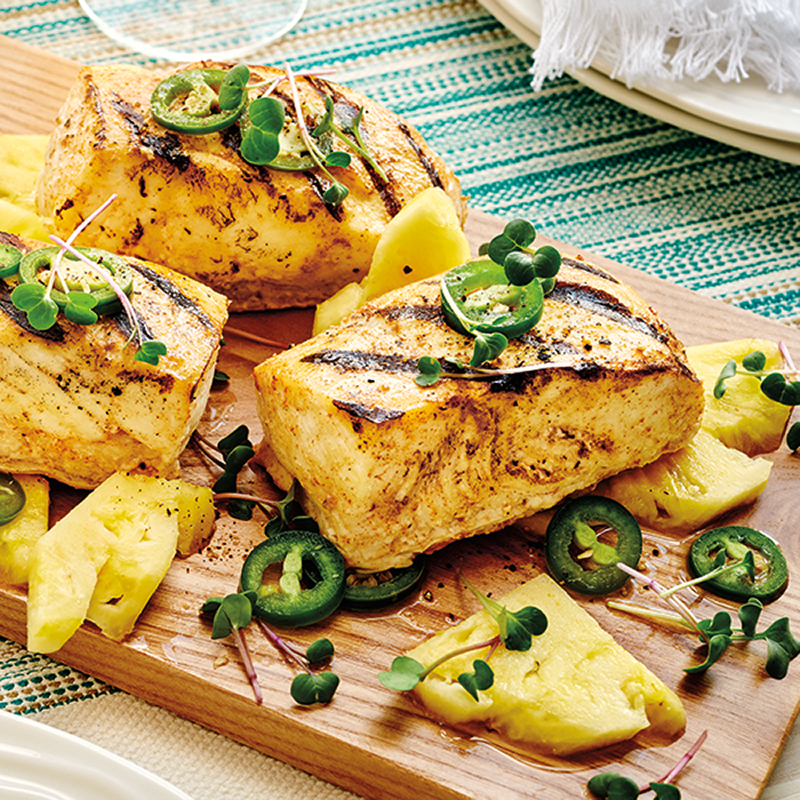 Halibut with Tequila Lime Pineapple
Ingredients
Serves 4
½ ripe pineapple, thinly sliced into ¼-in (0.5 cm) half moons
1 jalapeño, thinly sliced into rounds
1 tbsp (15 ml) fresh lime juice
¼ cup (60 ml) blanco tequila
¼ cup (60 ml) fresh orange juice
1 tbsp (15 ml) clover honey
½ tsp (2.5 ml) cayenne pepper
kosher salt and freshly ground black pepper, to taste
1 lb (500 g) halibut, cut into 4 pieces
grapeseed oil, for greasing grill
Instructions
Add pineapple and jalapeño to a shallow, non-reactive bowl and pour lime juice and tequila with a pinch of salt over top. Let sit, stirring occasionally, for at least 30 minutes or up to 8 hours.
In an 8-in (20 cm) square baking dish, whisk together orange juice, honey, paprika, cayenne, and a good pinch of salt and pepper. Add halibut and gently turn each piece to coat in marinade. Let sit in marinade for 10 minutes.
Preheat grill to medium-high.
Oil grills, then add halibut. Grill until cooked through, about 3 to 4 minutes per side, brushing marinade over halibut, as it cooks. Once cooked, transfer to a platter.
To serve, arrange drained tequila-lime pineapple on and around cooked halibut. Serve immediately.
Drink Pairings