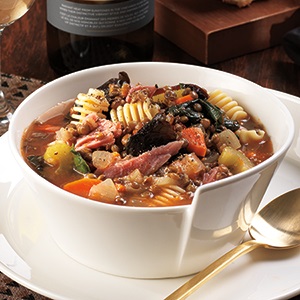 HAM, LENTIL AND SWISS CHARD STEW
Ingredients
Serves 6
1 tbsp (15 ml) olive oil, plus extra
1 medium cooking onion, peeled and chopped
2 lb (1 kg) smoked ham hock
1 cup (250 ml) crushed tomatoes
2 celery stalks, trimmed and chopped
1 large carrot, peeled and chopped
1 large jewel yam, peeled and chopped
1 cup (250 ml) dried French green lentils
1 cup (250 ml) pasta such as Radiatori or corkscrew
8 oz (250 g) red Swiss chard, stems trimmed, leaves chopped
salt and freshly ground black pepper, to taste
Instructions
In a large saucepan, heat oil over medium heat. Add onion and garlic and cook until softened, about 5 minutes. Add ham hock, water, crushed tomatoes, parsley and thyme. Turn heat to medium-high and bring to a boil. Reduce heat to low and cook soup, with lid slightly ajar, for 1 hour.
Discard parsley and thyme stems. Remove ham hock to a bowl to cool slightly. Increase heat to medium. Add celery, carrot, yam and lentils and cook, stirring occasionally, at a gentle simmer, for 30 minutes.
Meanwhile, remove and shred ham meat, discarding bone and excess fat. Set aside.
Add pasta to soup and cook until pasta is tender, about 8 minutes. Stir in Swiss chard and shredded ham, cooking until chard has softened, about 2 minutes. Season to taste with salt and pepper.
To serve, divide soup among warmed bowls and garnish with a drizzle of extra olive oil. Enjoy immediately.
Drink Pairings