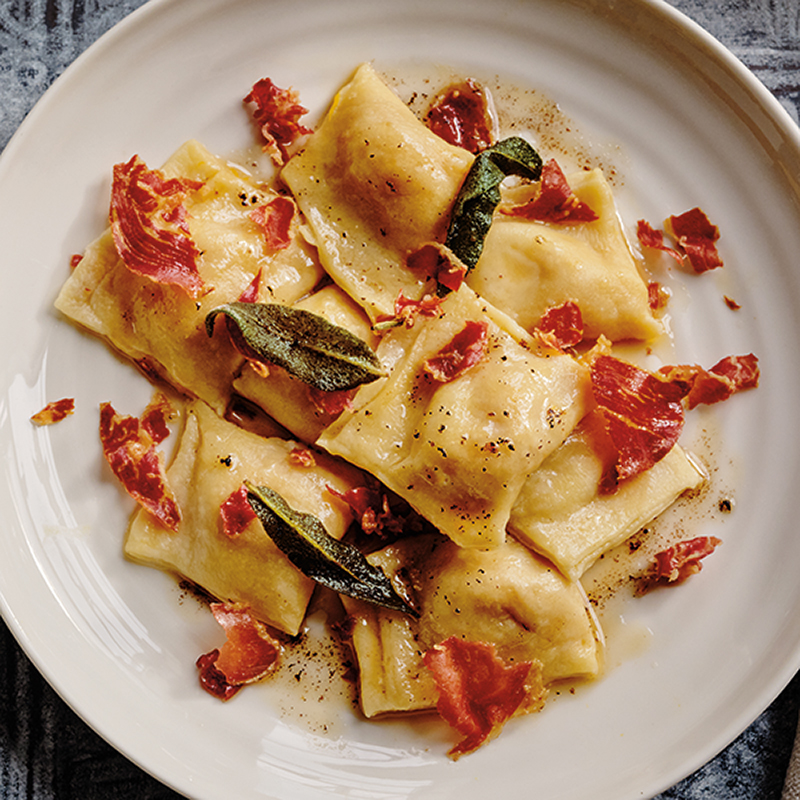 Handmade Butternut Squash Ravioli with Brown Butter, Pancetta & Sage
Making your own pasta shouldn't be daunting task. Here is a delicious recipe that should make your handmade pasta snap!
Ingredients
Serves 2 to 4
Handmade* Butternut Squash Ravioli, recipe follows
1 cup (250 ml) salted butter
*This recipe can be made with store-bought ravioli pasta, if desired.
HANDMADE BUTTERNUT SQUASH RAVIOLI:
300 g of flour, plus extra for dusting, about 2 cups (500 ml) + 2 tbsp (30 ml)
3 eggs + 1 egg yolk (should yield 180 g, if short, top up with olive oil)
1 small butternut squash, roasted (should yield about 3 cups (750 ml) of roasted squash)
1 cup (250 ml) grated Parmesan
salt and pepper, to taste
Instructions
Prepare Handmade Butternut Squash Ravioli (recipe follows) or use store bought.
Preheat oven to 350 F (180 C).
Line a baking tray with parchment paper and lay pancetta slices flat. Cook for 8 minutes or until crisp. Set aside.
In a medium saucepan, over medium heat, melt butter. Add sage leaves and gently fry until crisp. Remove leaves to a paper towel. If butter is still light in colour continue to cook over medium until golden brown and nutty smelling. Remove from heat and set aside.
Bring 16 cups (4 L) of water to boil. Season generously with salt. Cook Handmade Squash Ravioli until it floats, or 4 to 5 minutes. (If using store bought, prepare according to package instructions.)
Plate ravioli on a serving platter and drizzle with browned butter. Sprinkle with ½ cup (125 ml) of Parmesan, fried sage leaves and crinkled pancetta.
HANDMADE BUTTERNUT SQUASH RAVIOLI:
On a clean, floured surface place the flour and ¼ tsp (2 ml) salt. Using hands, create a well in the centre big enough to hold the eggs.
In a small mixing bowl, whisk eggs (and olive oil, if needed). Pour egg mixture into the well. Using a fork, gently bring the sides of the flour well into the egg mixture until a shaggy dough forms. Continue to incorporate all the flour by scooping it from the outside and placing it on top of the shaggy dough and kneading it out. Once a ball has formed, knead for about 10 minutes. It is ready when you have a soft, elastic dough that isn't sticky and feels smooth. Wrap the dough tightly in plastic wrap and rest for 30 minutes.
While dough is resting, make the filling.
In bowl of a food processor, add roasted squash, Parmesan, nutmeg and cinnamon. Season with salt and pepper and pulse on medium until smooth. Place in a piping bag until ready to use.
Unwrap dough and place on a clean, lightly floured surface. Cut into 2 halves and keep a tea towel over half you aren't working on, so it doesn't dry out. Lightly flour a rolling pin and roll out dough ball as thin as possible. This can take a few minutes. If dough is bouncing back, try flipping it over and keep rolling. You should have a long rectangle, about 4-in (10 cm) wide. Pipe quarter-sized dollops along bottom half of pasta sheet. Make sure to leave ¾-in (2 cm) space between each dollop.
Using a small bowl filled with water, wet index finger and lightly brush around sides of filling. Fold top half of pasta sheet over filling to meet bottom edge. Using hands, press around filling to close ravioli. Make sure there's no air inside. Cut ravioli into individual pieces and place on a floured surface until ready to boil. Repeat with remaining dough.
Drink Pairings