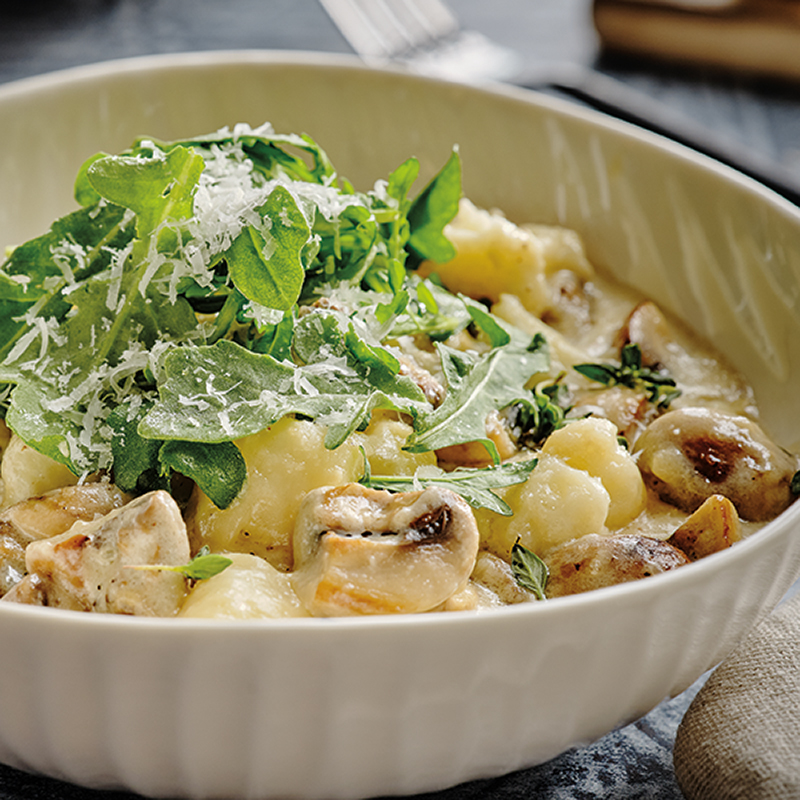 Handmade Gnocchi with Mushroom Cream Sauce
Making your own pasta shouldn't be daunting task. Here is a delicious recipe that should make your handmade pasta snap!
Ingredients
Serves 2 to 4
Handmade Gnocchi*, recipe follows
3 cups (750 ml) chopped mushrooms
3 sprigs thyme, stems removed
1 cup (250 ml) whipping cream
1 cup (250 ml) grated Parmesan
salt and pepper, to taste
3 cups (750 ml) arugula, to serve
½ lemon, juice only, to serve
3 lbs (1.5 kg) of russet potatoes (roughly 6 large potatoes)
¾ cup (175 ml) flour, plus more as needed
Instructions
Prepare Handmade Gnocchi (recipe follows) or use store bought.
In a saucepan, heat oil and butter over medium-high heat. Add garlic, mushrooms and thyme. Sauté for 8 minutes until softened and some of the mushroom moisture has cooked off. Add whipping cream and Parmesan. Season with salt and pepper. Cook on low for 5 minutes until cream has reduced slightly.
Bring 16 cups (4 L) of water to a boil. Season generously with salt. Cook gnocchi, if using fresh, until it floats to the surface. (If using store bought, prepare according to package instructions.) Using a slotted spoon, remove gnocchi and place directly into mushroom sauce. Add ½ cup (125 ml) of pasta water directly to sauce. Stir to coat.
To serve, top gnocchi with a handful of arugula and a squeeze of lemon.
HANDMADE GNOCCHI:
Preheat oven to 400 F (200 C).
Using a fork, poke a few holes into each potato. Bake for 45 minutes or until fork-tender. Allow to cool before handling. Cut potatoes in half lengthwise. Scoop out inside and place in a potato ricer. Repeat and rice all potatoes directly onto a clean working surface. Season with salt.
In a small mixing bowl, whisk egg yolks together. Drizzle directly onto riced potatoes. Sprinkle flour evenly over potatoes and eggs. Using the back of a chef 's knife or bench scraper, chop down repeatedly over potato mixture to mix flour and egg evenly into potatoes. Once everything is evenly distributed, start to gather dough to form a ball. If dough is still very sticky, add a small amount of flour at a time, until you can hold dough without it sticking to your hands. Knead dough 5 to 8 times until you can no longer see any egg streaks. Do not over knead.
Cut dough into 4 sections, working with 1 section at a time. Keep rest of dough covered. Roll each section of dough out to form a ½-in (1.25 cm) rope. Cut rope into 1-in (2.5 cm) gnocchi and place on a floured baking sheet until ready to cook.
This recipe makes a large quantity of gnocchi. You can freeze gnocchi on a lined baking sheet and then transfer into a plastic container. Store in freezer for up to 2 months.
Drink Pairings