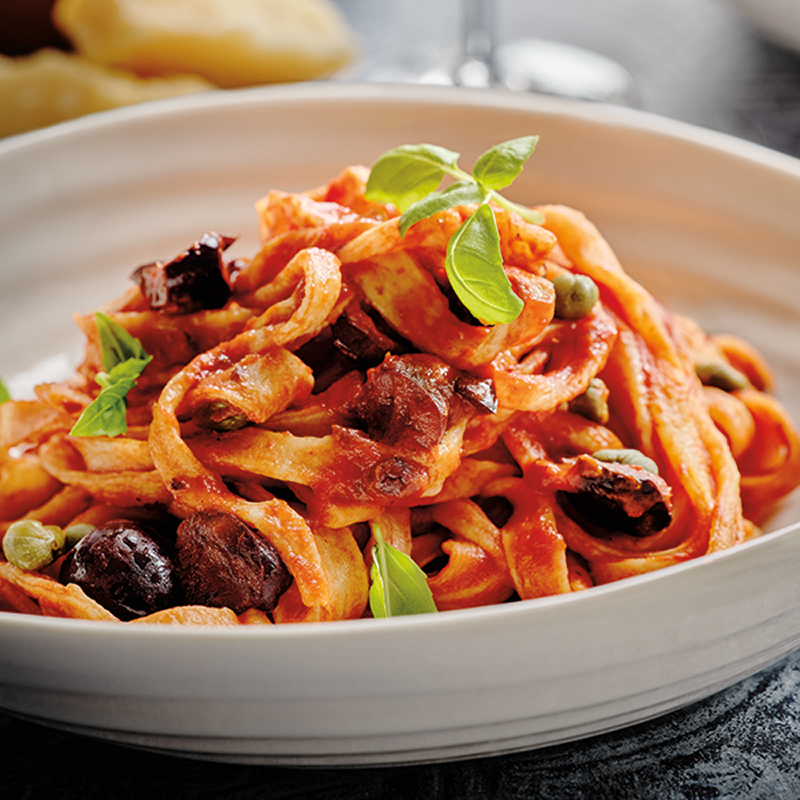 Handmade Linguine Puttanesca
Making your own pasta shouldn't be daunting task. Here is a delicious recipe that should make your handmade pasta snap!
Ingredients
Serves 2 to 4
Handmade* Linguine, recipe follows
¼ cup (60 ml) tomato paste
1 x 14 oz (398 ml) can crushed tomatoes
½ cup (125 ml) Kalamata olives, pitted, chopped
1 tsp (5 ml) chili flakes
salt and pepper, to taste
½ cup (125 ml) grated Parmesan, for garnish
¼ cup (60 ml) chopped basil, for garnish
*This recipe can be made with store-bought linguine pasta, if desired.
300 g of flour, plus more for dusting, about 2 cups (500 ml) + 2 tbsp (30 ml)
3 eggs + 1 egg yolk (should yield 180 g, if short, top up with olive oil)
Instructions
Prepare Handmade Linguine (recipe follows) or use store bought.
In a large saucepan, heat oil over medium-high heat. Add garlic and anchovy fillets. Using a fork gently mash anchovies into a paste. Add tomato paste, crushed tomatoes, olives, capers and chili flakes. Allow to cook for 5 to 8 minutes. Add butter and adjust seasonings, to taste.
Bring 16 cups (4 L) of water to a boil. Season generously with salt. Cook prepared pasta for 2 to 3 minutes, if using fresh. (If using store bought, prepare according to package instructions.) Reserve ½ cup (125 ml) of pasta water and set aside before straining.
Add reserved pasta water and pasta to sauce, stir to coat and serve with Parmesan and chopped basil.
HANDMADE LINGUINE:
On a clean, floured surface, place the flour and salt. Using your hands, create a well in the centre big enough to hold the eggs.
In a small mixing bowl, whisk eggs (and olive oil, if needed). Pour egg mixture into the well. Using a fork, gently bring sides of flour well into mixture until a shaggy dough forms. Continue to incorporate all the flour by scooping it from the outside and placing it on top of the shaggy dough and kneading it out. Once a ball has formed, knead for about 10 minutes. It is ready when you have a soft, elastic dough that isn't sticky and feels smooth. Wrap dough tightly in plastic wrap and let rest for 30 minutes.
Unwrap dough and place on a clean lightly floured surface. Cut into 2 halves and keep a tea towel over half you aren't working on, so it doesn't dry out. Lightly flour a rolling pin and roll dough ball out as thin as possible. This can take a few minutes. If dough is bouncing back, try flipping it over and keep rolling. Once dough is as thin as you can get it, make sure the whole surface of dough is dusted with flour so it doesn't stick. Fold pasta sheet over itself a few times. Using a sharp knife cut pasta into ribbons. Unfold pasta noodles and gently mound onto a floured surface until ready to cook. Repeat with remaining dough.
Drink Pairings