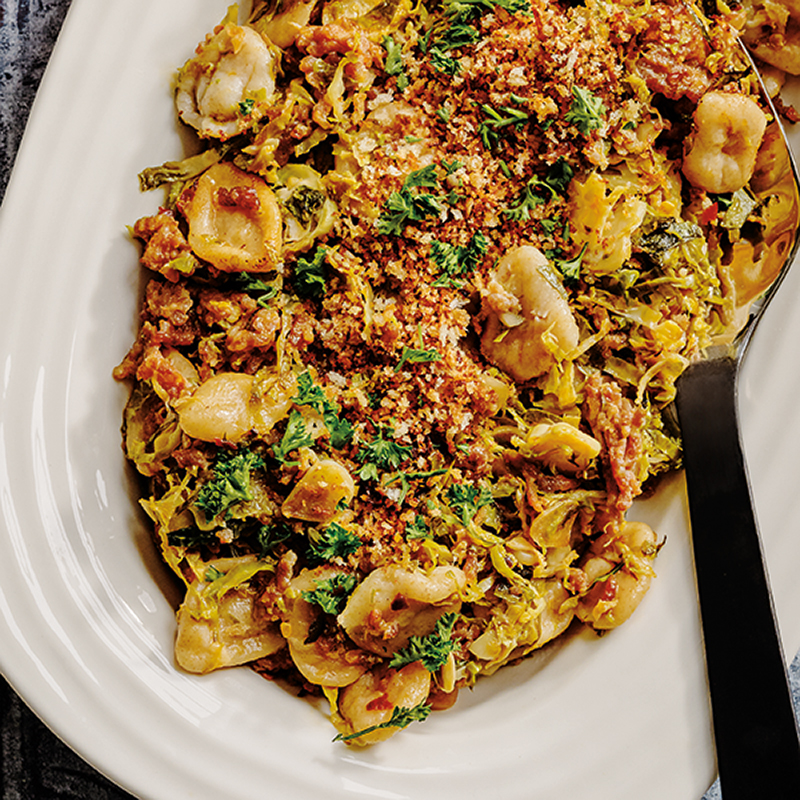 Handmade Orecchiette with Brussels Sprouts & Sausage
Making your own pasta shouldn't be daunting task. Here is a delicious recipe that should make your handmade pasta snap!
Ingredients
Serves 2 to 4
Handmade Orecchiette* recipe follows
3 Italian sausages, casings removed
15 Brussels sprouts, shredded
1 tsp (5 ml) chili flakes
salt and pepper, to taste
½ cup (125 ml) panko bread crumbs, toasted
¼ cup (60 ml) chopped parsley
1 cup (250 ml) grated Parmesan, divided
*This recipe can be made with store-bought orecchiette pasta, if desired.
2½ cups (625 ml) semolina flour
¾ cup (175 ml) warm water
Instructions
Prepare Handmade Orecchiette (recipe follows) or use store bought.
In a large saucepan, heat oil over medium-high heat. Brown the sausage meat in pan, using a wooden spoon to gently break apart the sausage as it cooks to form a mince. Add Brussels sprouts, garlic, chili flakes and lemon juice. Cook for 5 to 8 minutes, until Brussel sprouts are soft. Season with salt and pepper. Remove from heat and set aside.
Bring 16 cups (4 L) of water to a boil. Season generously with salt. Cook pasta for 2 to 3 minutes, if using fresh. (If using store bought, prepare according to package instructions.) Reserve ½ cup (125 ml) of pasta water and set aside before straining.
Reheat sausage mixture. Add pasta water and pasta. Stir to combine and let cook for 2 minutes.
In a small mixing bowl, mix together bread crumbs, parsley and ½ cup (125 ml) of Parmesan.
Serve pasta topped with toasted panko crumb mixture and extra ½ cup (125 ml) of Parmesan.
HANDMADE ORECCHIETTE:
In a stainless steel mixing bowl, mix together 2½ cups (625 ml) semolina flour and salt. With hands, make a small well in middle of flour mixture. Pour warm water into well. With floured hands gently bring some of the flour from the outside into the water until a shaggy dough forms. Place dough onto a clean, floured surface. Bring dough together into a ball and knead until dough is smooth and bounces back when poked, about 5 to 8 minutes. Wrap dough tightly in plastic wrap and set aside for 30 minutes.
Once dough has rested, cut into 4 even sections. Work with 1 piece of dough at a time, keeping remaining portions covered so they don't dry out. Dust a work surface with semolina flour, roll out dough to make a rope about ½-in (1.25 cm) thick. Cut rope into small pieces, about a thumb width each. Using back of a dinner knife, starting at top of 1 piece of dough, drag knife towards you, pushing the dough ball flat. It will look like a little disk with curled up sides. Flip disk inside out to make a rounded cone. Repeat with rest of dough. Place finished pasta shapes on a floured tray until ready to cook.
Drink Pairings