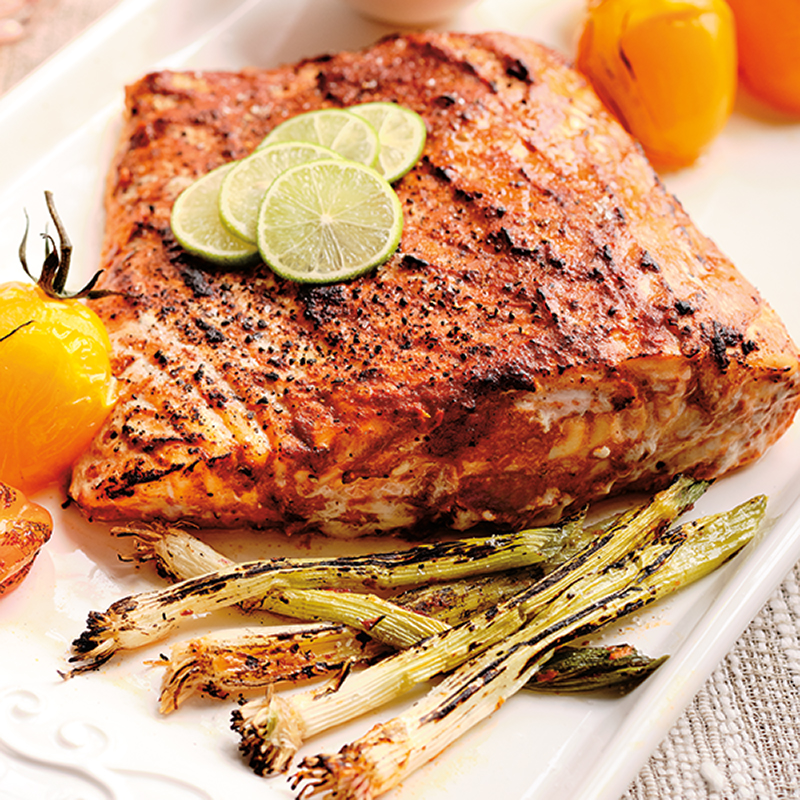 Ingredients
Serves 4 to 6
1 tsp (5 ml) ground coriander
1 tbsp (15 ml) ground cumin
2 large garlic cloves, crushed
2 tbsp (30 ml) tomato paste
1 scant tbsp (about 15 ml) finely chopped preserved lemon peel (flesh removed and discarded)
¼ tsp (1 ml) balsamic or sherry vinegar, or to taste
salt and pepper, to taste
2 lb (907 g) fillet skinless halibut, about 1½-in (4 cm) thick
lemon wedges and harissa, to serve
Instructions
To make harissa, preheat grill or broiler to high. Grill jalapeño and red peppers, turning, until charred and blackened, about 5 to 7 minutes for jalapeño and 10 to 15 minutes for bell peppers. Transfer all peppers to a bowl, cover with a plate, and let cool for 15 minutes. Peel and remove seeds from red peppers, reserving flesh. Remove seeds from jalapeño, if desired.
In a medium skillet, dry toast coriander and cumin over medium heat, tossing, until fragrant, about 3 minutes. Add olive oil, garlic, tomato paste, preserved lemon peel, red peppers and jalapeño. Stir well to coat in oil, then reduce heat to low and simmer for 10 minutes, crushing peppers and garlic into oil. Remove from heat, let cool slightly, then transfer to a blender and blend until smooth. Stir in vinegar to taste. Transfer harissa to a bowl, season with salt and pepper to taste, and set aside ⅓ cup (75 ml) for serving.
Pat halibut dry and season generously with salt and pepper. Coat fish on both sides with remaining harissa and transfer to a baking dish. Cover and refrigerate for 2 hours.
Place oven rack in middle of oven and preheat to 350 F (180 C). Transfer halibut to a foil-lined baking sheet and place on middle rack. Cook for 17 to 20 minutes, then test for doneness: fish should be just starting to flake. Leave fish in oven on middle rack and turn broiler to high. Broil for 7 to 9 minutes, or until harissa begins to bubble and fish is perfectly flaky. Serve immediately with reserved harissa and lemon wedges on the side.
Drink Pairings