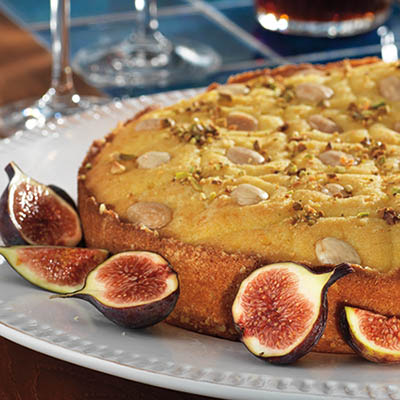 HARISSA SEMOLINA CAKE WITH LABNEH AND HONEYED GRILLED FIGS
Ingredients
Serves 8 to 10
1 + 2 tbsp (15 + 30 ml) sesame tahini, divided
3 cups (750 ml) semolina flour
1 tsp (5 ml) baking powder
3/4 cup (175 ml) unsalted butter, at room temperature
1 cup (250 ml) granulated sugar
½ cup (125 ml) Marcona almonds
⅓ cup (75 ml) finely chopped pistachios, lightly toasted, for garnish
1¼ cups (310 ml) granulated sugar
2 tbsp (30 ml) lemon juice
1 tsp (5 ml) rose water, if desired
LABNEH WITH HONEYED GRILLED FIGS AND SUMAC:
2 cups (500 ml) full fat plain Greek yogurt
2 tsp (10 ml) grape seed oil
¼ cup (60 ml) dark liquid honey, such as buckwheat
2 tbsp (30 ml) toasted chopped pistachios
Instructions
Preheat oven to 350 F (180 C). Brush a 9-in (23 cm) spring-form pan with 1 tbsp (15 ml) tahini and set aside.
To make CAKE: Stir flour and baking powder together in a small bowl. Combine butter and sugar in bowl of an electric stand mixer fitted with a paddle attachment. Cream until light and fluffy. Gradually beat in eggs, one at a time, and remaining 2 tbsp (30 ml) tahini, orange zest and juice until blended.
Stir in flour mixture, using a wooden spoon or a spatula, until blended. Mixture will be like a soft, moist cookie dough. Transfer to prepared baking dish. Lightly wet fingertips, then press mixture into pan. Smooth the surface. Using a pastry scraper or a knife, cut diagonal lines across the top about 1/8-in (.25 cm) deep, creating a diamond pattern. Lightly press an almond into the centre of each diamond.
Bake cake in centre of preheated oven for 30 to 40 minutes, or until puffed and golden and the sides are golden brown. When done, remove pan from oven and cool on a rack.
To make SUGAR SYRUP: Combine water, sugar and lemon juice in a heavy saucepan. Stir together and bring to a boil. Reduce heat and simmer for 20 minutes or until it reduces by a third. Remove from heat and stir in rose water, if using. Set aside to fully cool.
When cake has cooled, pierce all over top several times with a skewer or fork. Drizzle with cooled sugar syrup. Let syrup settle in. Dust with toasted pistachio crumbs. Cut cake into diagonal pieces following the lines. Remove sides of springform pan and gently remove pieces of cake with a small spatula. Serve with spoons of freshly made Labneh with Honeyed Grilled Figs and Sumac (recipe to follow). Can be made ahead, covered and refrigerated for up to several days.
To make LABNEH: Line a non-reactive strainer with a few layers of cheesecloth. Place strainer over a deep bowl, deep enough for strained liquid. Transfer yogurt to strainer and fold in edges of cheesecloth over yogurt. Refrigerate for 8 to 12 hours.
Remove Labneh from cloth and transfer to a bowl. Yogurt will be very thick. Discard liquid whey or refrigerate and use within a few days in baking recipes. Refrigerate Labneh until ready to serve.
Preheat barbecue on medium-low. Cut figs in half and brush all over with grape seed oil. Place, cut-side down, on barbecue and grill for a couple minutes, or just until light grill marks appear. Flip figs and drizzle each with a couple dots of honey. Continue to barbecue for a minute longer, or just until hot.
To serve, place a couple spoonfuls of Labneh into a serving dish with a couple halved figs on top, drizzle with honey. Sprinkle with a pinch of sumac powder and garnish with mint. Serve with squares of Harissa Semolina Cake.
Drink Pairings