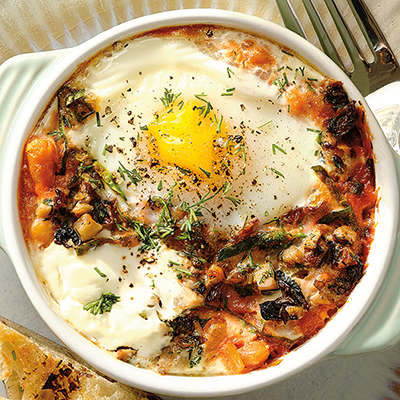 Harissa Tomato Eggs en Cocotte
Ingredients
Serves 6
1 tbsp (15 ml) unsalted butter, plus extra for greasing
¼ cup (60 ml) finely minced shallots
2 garlic cloves, smashed and minced
1 cup (250 ml) tomato passata (Puréed strained tomatoes. Available at most grocery stores.)
2 tsp (10 ml) harissa paste, or to taste
1 x 14 oz (398 ml) can cannellini beans, drained and rinsed
1½ cups (375 ml) loosely packed baby spinach leaves, slivered
1 tbsp (15 ml) extra-virgin olive oil
¾ cup (175 ml) mixed fresh mushrooms, finely chopped or ½ oz (15 g) dried mixed mushrooms, soaked, drained and chopped
2 tbsp (30 ml) chopped fresh dill, plus extra for garnish
6 large organic eggs (Organic eggs offer extra-yellow yolks.)
⅓ cup (75 ml) full-fat plain yogurt
crispy fried shallots or onions, for garnish (optional) - Make at home, or available at specialty grocery stores.
toasted sourdough, for serving
Instructions
Preheat oven to 375 F (190 C). Place rack in centre of oven. Arrange six ¾-cup (175 ml) ramekins on a baking sheet. Lightly grease the inside of each with butter. Set aside.
In a medium skillet, heat 1 tbsp (15 ml) butter over medium heat. Add shallot and sauté for a couple minutes to soften. Add garlic and gently sauté a minute longer until soft. Stir in passata, cream, harissa, salt and brown sugar. Fold in beans and a splash of balsamic. Add a little more harissa to taste, if desired. Fold in spinach until slightly wilted and divide mixture among ramekins. Set aside.
Add olive oil and mushrooms to skillet and gently stir-fry over medium heat until golden brown, about 8 minutes. Remove from heat and fold in dill. Scatter half the mushroom-dill mixture into the ramekins.
Crack an egg into each ramekin and scatter with remaining mushroom-dill mixture. Spoon about 1 tbsp (15 ml) yogurt alongside each egg. Sprinkle with a little pepper.
Bake for 15 to 20 minutes, or until piping hot and eggs are set and firmness is as desired.
Remove and sprinkle with a little dill. Serve garnished with a sprinkling of crispy fried shallots or onions, if using, and toasted sourdough for dipping.
Drink Pairings