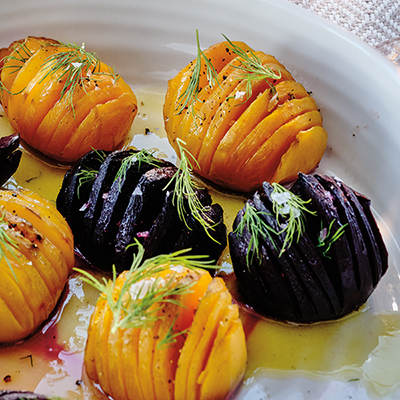 Ingredients
Serves 6
12 small to medium red and yellow beets, scrubbed
¼ cup (60 ml) grapeseed oil
kosher salt and black pepper, to taste
¼ cup (60 ml) white wine vinegar
2 tbsp (30 ml) clover or light-coloured honey
2 tbsp (30 ml) chopped fresh dill, plus extra for garnish
⅓ cup (75 ml) extra-virgin olive oil
Instructions
Preheat oven to 375 F (190 C).
Peel beets and trim root and stem ends to create a flat surface so they will not roll around when roasting. Slice each beet crosswise at ⅛-in (0.25 cm) intervals, cutting to within ¼-in (0.5 cm) of bottom, taking care not to cut all the way through. Place flat-side down in a glass or ceramic baking dish, drizzle with grapeseed oil and season with salt and pepper. Cover baking dish tightly with lid or aluminum foil and roast until easily pierced with a knife, about 45 to 60 minutes. Remove lid and continue to roast for another 10 minutes, to allow any liquid in dish to evaporate.
Meanwhile, in a medium bowl, whisk together vinegar, honey and dill. Slowly drizzle in olive oil, whisking constantly, until vinaigrette comes together. Season to taste with salt and pepper.
To serve, transfer warm beets to a serving platter. Drizzle with vinaigrette and garnish with additional chopped dill. Serve warm or at room temperature.
Drink Pairings